Value of Humanity is different than ours
One of the best things I like about top-levelrestaurants in Europe is that they ask whether you have allergy to any ingredient before they present you the menu. To me, this sets an example for the value they give to humanity. I don't consume pork meat for religious reasons. I've encountered many restaurants using pork meat and serving to me without even consulting in the first place.  Likewise, there are many people with allergy to things like oysters, and shrimps with a high level of protein. As a matter of fact, the restaurants in our country (even the quality ones) leave you no alternative, and if you try to put aside any ingredient aside in a special, then you come across waiters that saying  "Then it will taste like nothing". But restaurants like Hibiscus go into a change in their menu and don't ruin your meal.
Simple decoration, good food
Hibiscus is a simply decorated restaurant in central London. The simplicity in decoration reminds me of Aimo e Nadia restaurant in Milano. I've also had an amazing meal there within a simple atmosphere. We're served eggs in curry as a classic amuse bouche at Hibiscus.  On top, you've got curry, and beneath the special is a mixture is of the white of an egg with mushroom sauce. The presentation and taste of this starter is great. Their bread has a beautiful smoked flavour. It's served hot.
Next, salmon is of an extraordinary taste I haven't had for a long while.  Far from farm salmon, it's an example for how salmon can be great without having the smoked flavour. The sauce made of wasabi and pomegranate sauce mixture suits salmon very well. It contributes to the vision and the taste of this fish.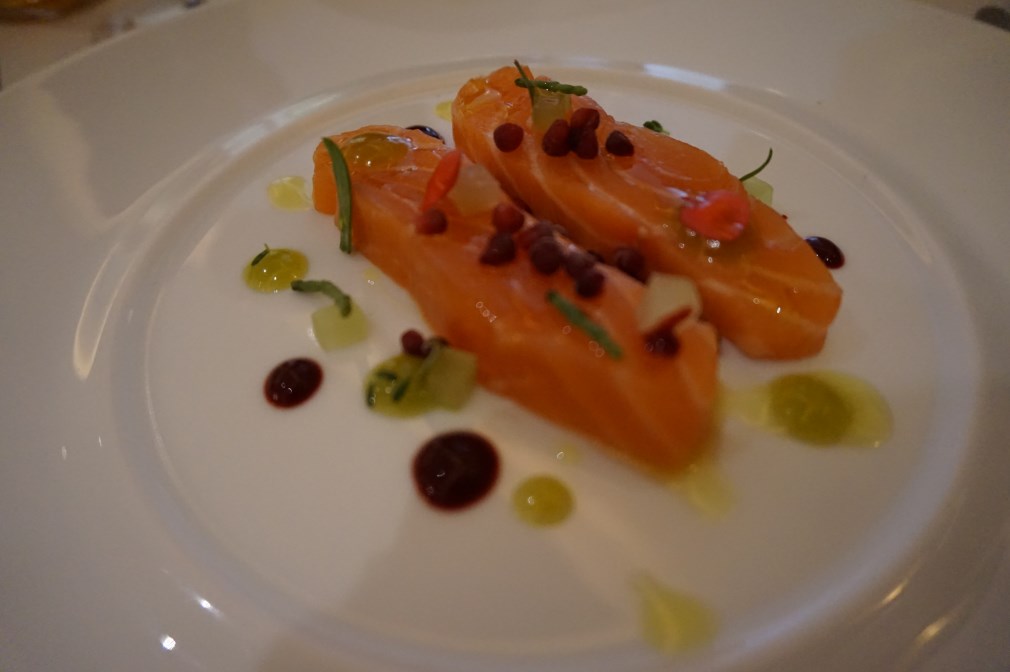 As soon as I taste my main dish, Beef Cheeks, I'm enchanted. Most of us don't like this type of meat. It always seems as if it's dirty, bad and out of taste. However, inner organs such as speciality meats, cheeks and brain are the places where you can find the best quality of meat. I'm sure a Turkish person will make a face as soon as they hear the word "cheek". But if you present the name as something else, they will love it. It's such a tasty meat with a character. The only problem is that it's too salty. Beyond doubt, truffle mushroom next to meat contributes to the success of this dish greatly. Additionally, Veronique sauce made of vermouth and grape is what the puree is about. It's an exemplary French sauce. It's a true  beauty…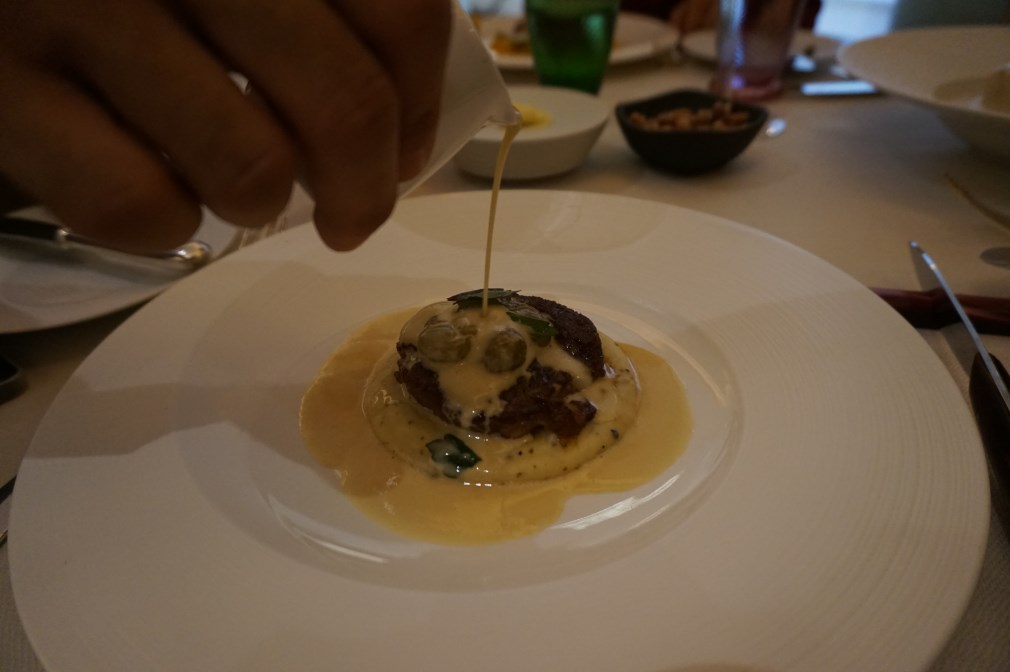 I like the duck leg as it's fried. I'm talking about juicy, fatty and tasty meat.  Now I can understand why I don't like the breast part of duck. Wherever I have it, it's all dried up. But there's gem in duck leg. It's tastier than chicken.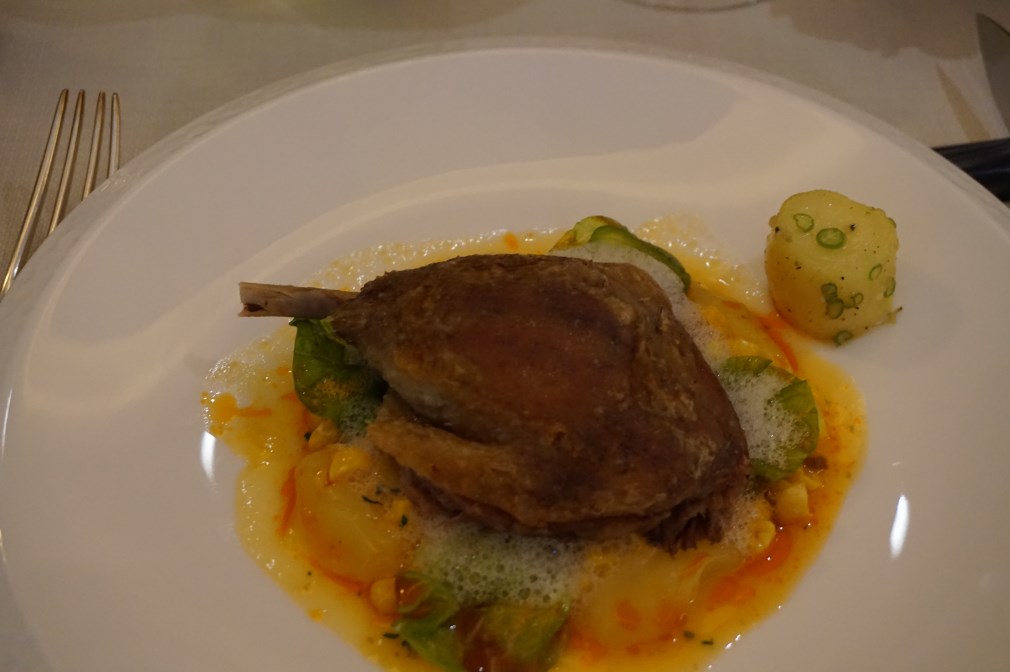 I've realised something as I eat the side dish, boiled potatoes .You can easily taste sugar and flavour of starch in potatoes. The quality of vegetables is much better compared to our country. Maybe that's why we can't be that good at vegetables no matter what we do, although we live on such rich and abundant soil. It's because we pollute our soil, and we like hormones a lot…
I don't enjoy gadidae fish a lot. It's cooked in such a tasteless way that I haven't expected.  All in all,  the taste of this fish is not that great, and they haven't presented it with a sauce that could enrich the experience.
Whisky flavoured ice cream they have served as dessert comes with grilled fig. Just as radish, I come across with fig everywhere. I don't like this ice cream much. Even though I'm a whisky lover, I find this taste bitter.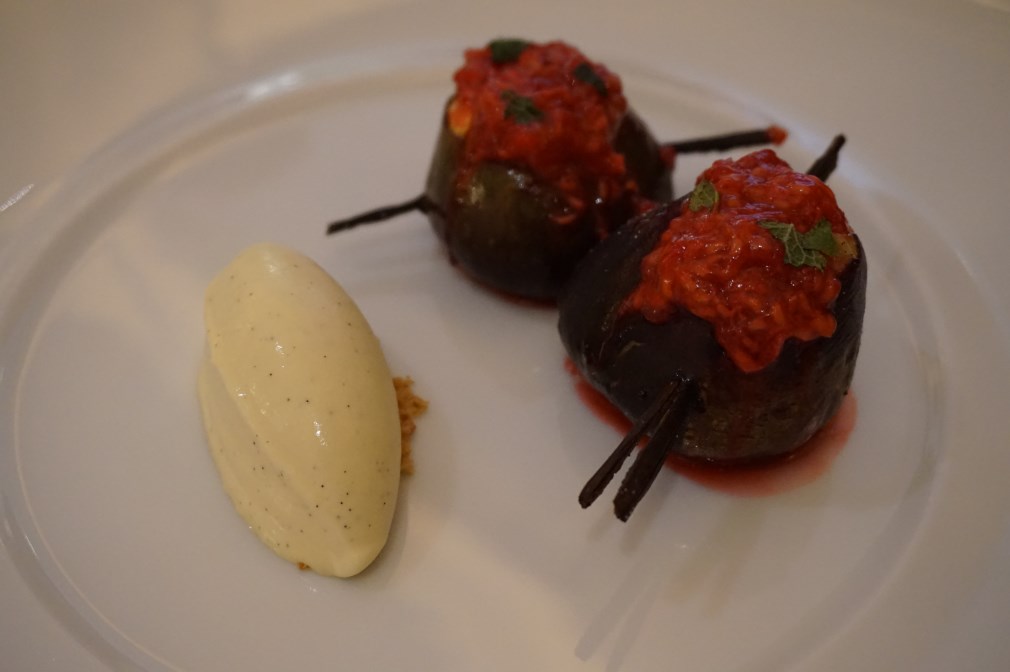 Although, their forest fruit tart hits the nail on the head. It's impossible to forget about the taste of cream in the tart.  It's a feast consisting of a sauce made of honeycomb.  The freshness of fruits will blow your mind.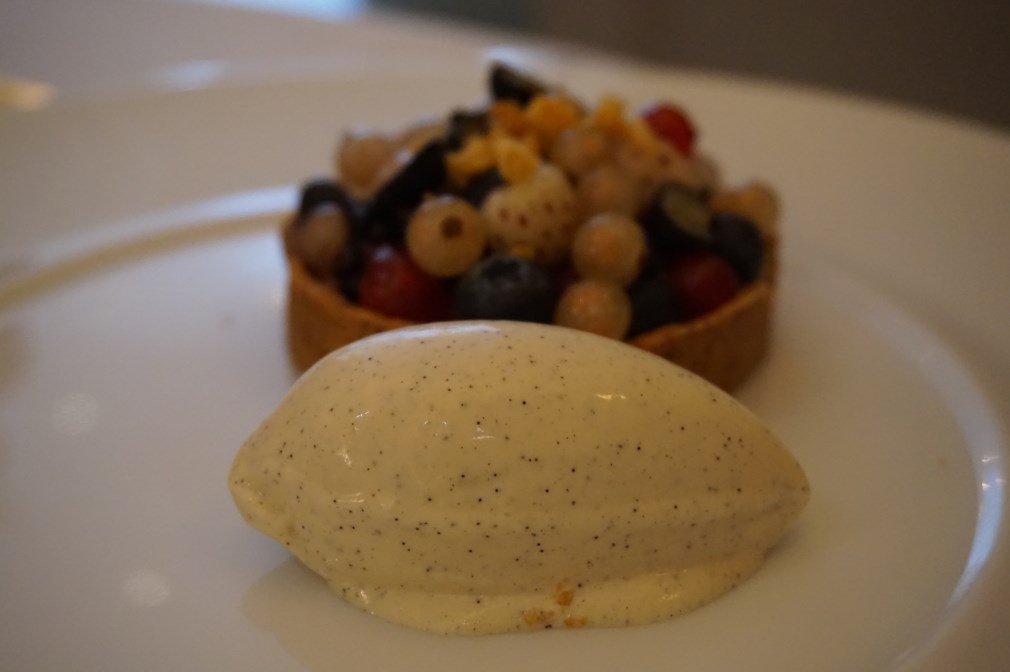 As much as they have risk-free, classic tastes, they also serve brave and innovative tastes. In particular I congratulate Chef Claude Bosie from Lyon for Beef Cheeks. I will be following their creative ideas on fish menu.
Evaluation: 9/10
Address: 29 Maddox St, London W1S 2PA, England
Telephone+44 20 7629 2999