A great tradesman restaurant
For us, the concept of tradesman restaurant is very important. Perhaps it's one of the most important parts of our cultural values. We, that is chefs, have turned towards Europeanised restaurants and new cuisines so much that we've forgotten about places that make our traditional food. Who knows, perhaps in the future there will be an abundance of fine dining restaurants in Turkey, while there will be hardly any place that will make karnıyarık (split aubergines with seasoned meat filling). Therefore, what we call as tradesman restaurant is very significant. It's value that should be protected. How will the best tradesman restaurants in Istanbul save themselves? Will they remain as the place only tradesmen go? I think our people have a great responsibility in this matter. For instance, I'd recommend you to take your foreign friends to such places. It's an excellent traditional Turkish food experience for tourists, also, it's a nice way to present tradesman restaurants. In my Kapalıçarşı(Grand Bazaar) tasting tour, I asked to people around "What's the best tradesman restaurant here?", and I received the same answer from well-esteemed tradesmen. This also includes my father-in-law who used to work in Kapalıçarşı. I couldn't help but follow the recommendation. Bahar Restaurant, just as they said, is an excellent tradesman restaurant.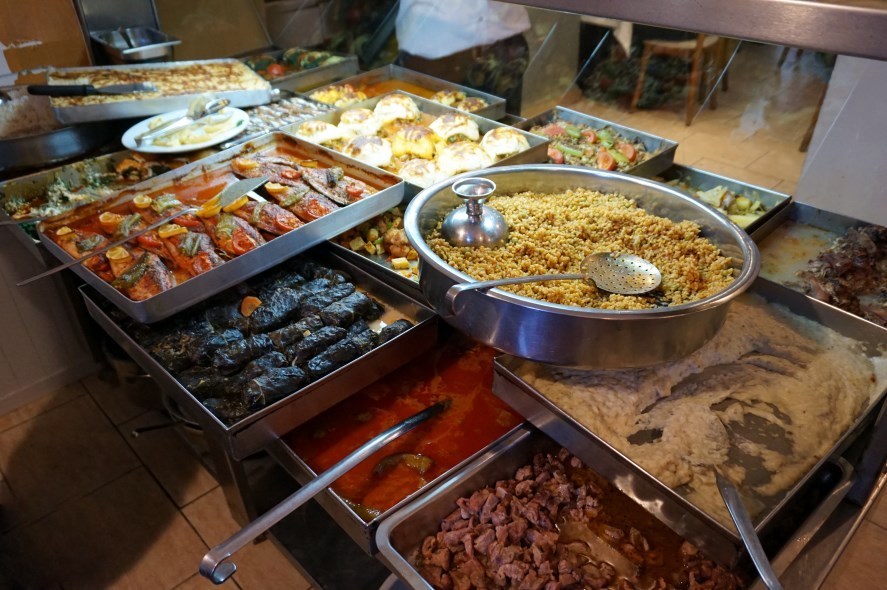 23 varities of dishes prepared with the freshest vegetables
Bahar Restaurant Grand Bazaar is located near the Nuruosmaniye entrance of Grandbazaarı. If you ask, anyone can point you to this direction. They have 2 cooks. I had a chance to meet one of them, Chef Huseyin. They prepare 22-25 varieties of dishes everyday. Thus, they start cooking the latest at 7 o'clock in the morning. Their recipes have changed over the time by using different techniques. They contributed some additional ingredients to some dishes, and for some they changed a few ingredients. In the end, they have created their specials. For example, there is almost no white sauce in the puree of kuzubeğendi (sheep with aubergine puree). It's not heavy, and it smells so good, like butter. The kashar cheese inside isn't a kind that would give you heartburn, and most of all, they add nutmeg in aubergine puree. The sheep meat is a taste bomb with a very soft texture. It's a much better choice than beef I think.
Spinach borani (spinach with yogurt) is made of the freshest spinaches, and they've added a reasonable amount of garlic that contributes to the taste rather than ruining the experience.  Just as in beğendi, they've used nutmeg in this recipe. They pour amazing hot spicy oil sauce over the top. So, they also have a lot of options for vegetarians.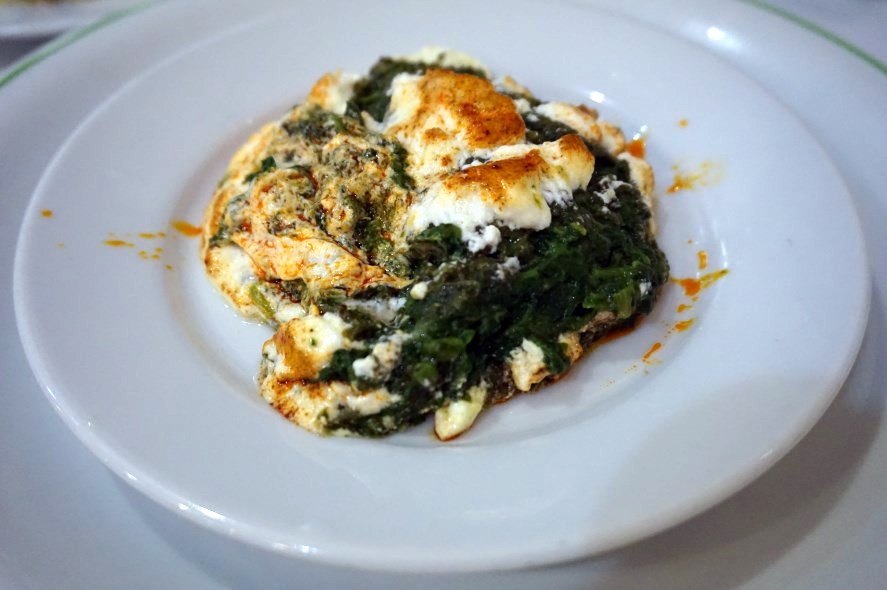 If the sultan had Şehzade Kebab, he would be jealous of the prince(şehzade)
I've never been to a place that made Şehzade Kebab this good. Aubergines are lightly fried and later roasted, and carrots are still lively, whereas tomatoes are sweet sour and the meat is softest ever. As they say in  Turkish, this meat melts and almost disappears in your mouth. If I were the Sultan, I would be jealous of my son for the name of the dish. It goes very well with bulgur pilaf cooked with fresh mint. Cooks like Chef Hüseyin contribute so many nice little new things to traditional recipes. Sometimes it's just the fresh mint you can add. I'm full satisfied with all the tastes I've tried at Bahar Restaurant. Especially, dishes with vegetables win my heart. All of them are fresh, and they are not heavy. Most of all, the place is gleaming and so clean. There's no smell or detail that disturbs you. Their presentations are brilliant and the waiters are well mannered. They all know tradesmen around.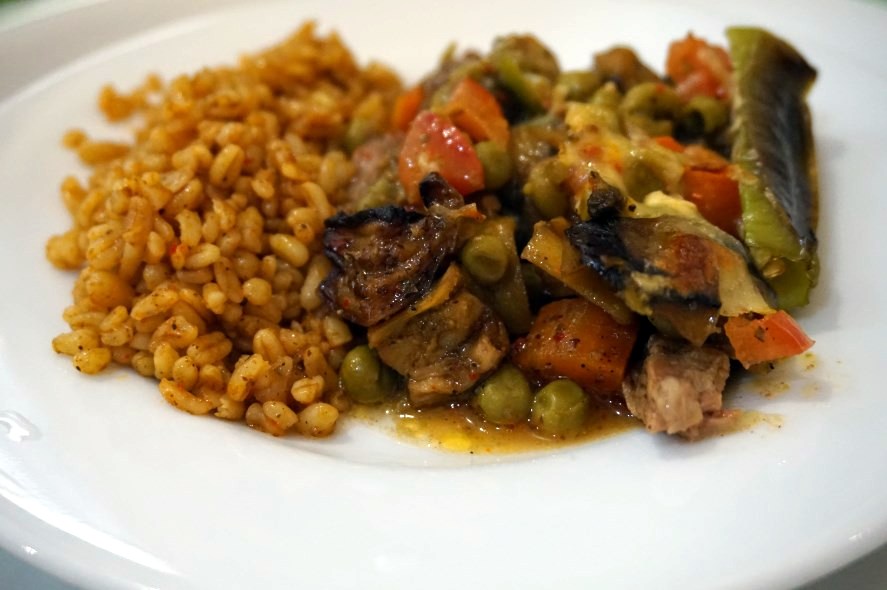 Bahar Restaurant Grand Bazaar is the Refuge for Tradesmen in GrandBazaar
Now I understand why the tradesmen in Kapalıçarşı go to this place although they have abundant choices.These dishes I've tasted with my father-in-law have allowed me to get to know the taste of my father-in-law and also experience the happiness I've shared with the tradesmen in town… Another beautiful thing about this place is that we paid 50 lira even though we stuffed ourselves with food. If we had these at a luxurious restaurant we wouldn't pay less than 200 lira. If you ever goto Kapalıçarşı, please don't waste your money in touristic places. Go and eat the most beautiful examples of our traditional cuisine with reasonable prices at Bahar Restaurant. Before leaving, don't forget to have tea and the dessert of the day.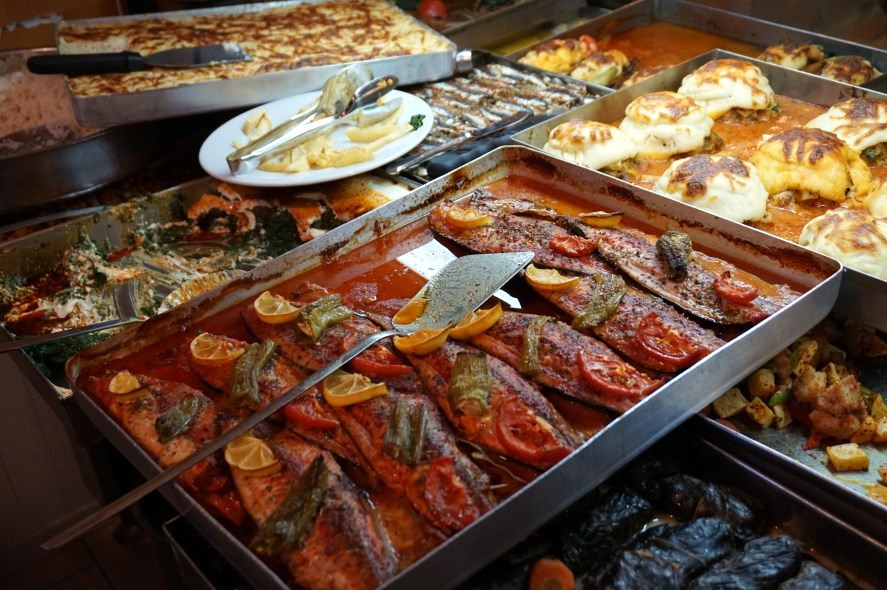 Evaluation: 10/10
Address: Kapalıçarşı Nuruosmaniye kapısı yanı, Yağcı Han No:13
Tel: +90212 512 74 39