The revival of forgotten tastes
Ciya Sofrasi located in Kadikoy explores the roots of many Anatolian dishes from history till now and contributes to the revival of forgotten tastes. It's also possible to find an old Antep dish, a Thracian dish, a Caucasian or Assyrian dish in their menu. This kitchen that only makes Anatolian food consists of only 15 people. When cooks at open fire and other staff added, you encounter a big group of people working in the service of gastronomy. Ciya Sofrasi takes up the role to represent the Turkish cuisine in the world.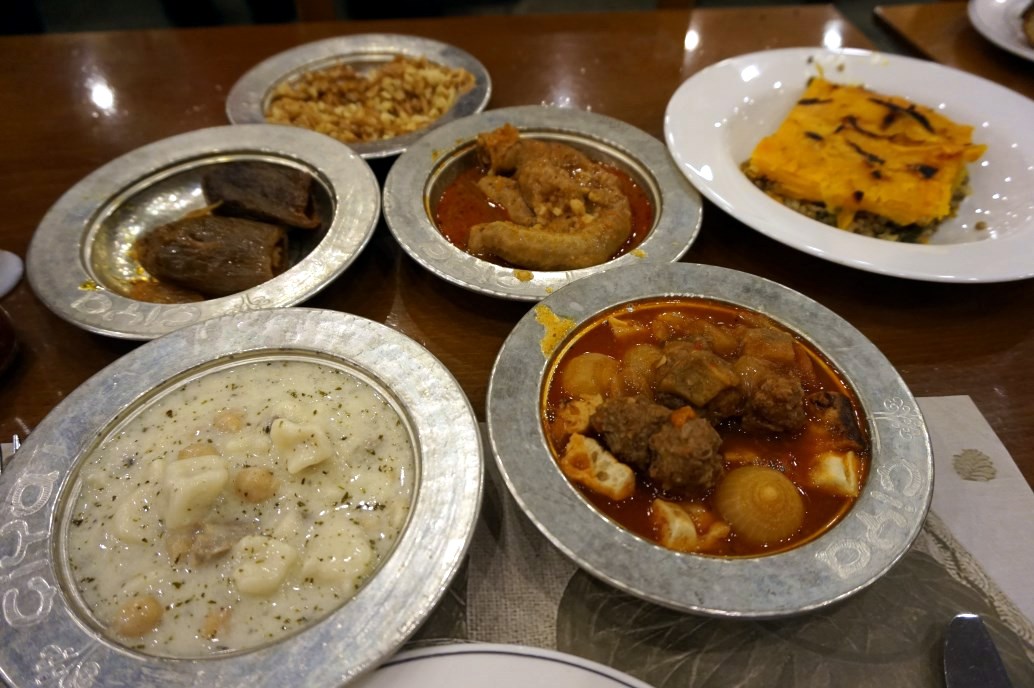 Table and Openfire Culture in Turkish cuisine
Turkey, thanks to the premises it's founded on, Anatolia, has a very rich heritage of food culture. Both from the East and from the West, the harmony of Anatolian taste consists of these two dominant influences. The first one is open fire culture, a result of carnivore culture in the East. Another one is the synthesis of the East and the West, which is the table culture, "sofra" in Turkish. Personally, I think that Turkish cuisine fits more in the table culture. I guess open fire culture is more of a beautiful gift from the Middle East.  In this day where traditional Turkish food loses more relevance, representatives such as Ciya Sofrasi struggle to revive it. This is worthy of commendation as Turkish cuisine is face to face with an emerging danger: the takeover of the Western cuisine over our open fire culture as a sector. As the third movement, I strongly support the former powerful position of traditional Turkish cuisine. Otherwise, we will be dependent on the hands of people who don't even know how to cook "karnıyarık".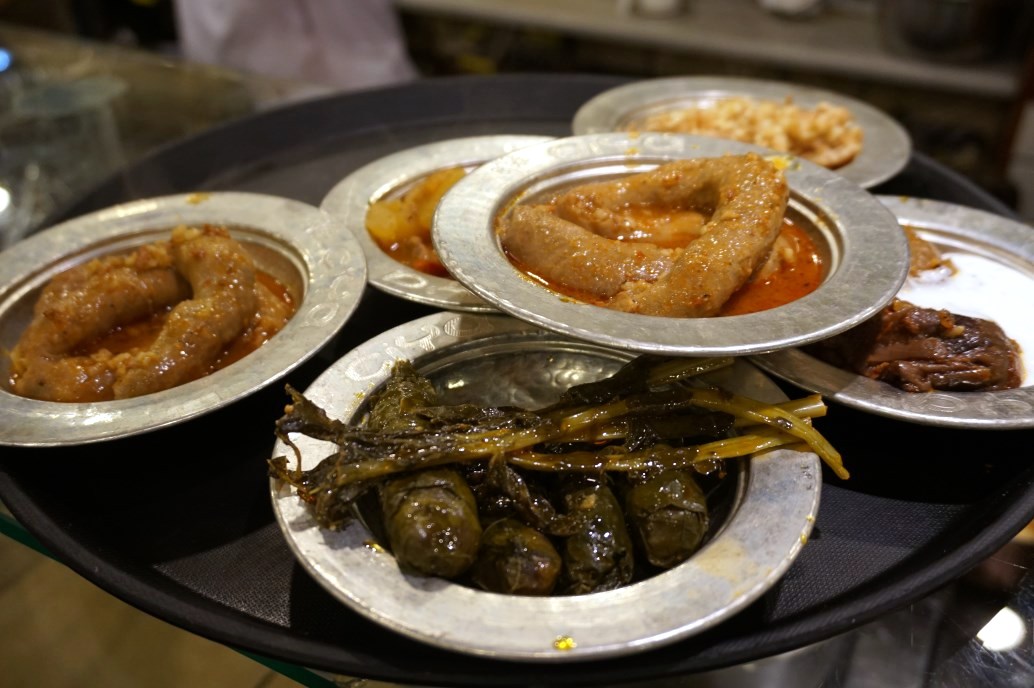 The Richness of Turkish cuisine
As soon as you enter Ciya Sofrasi, the best examples of Anatolian kitchen warmly welcome you. On the left, you can see the unique local desserts of each region, and on the right, you see fresh and colourful starters with olive oil as you drool over what you see. Before choosing main meal, I'd like to give you an advice.  Rather than ordering a portion of one kind of food, you should order half portions of different dishes. In this way, the food remains warm and you can taste various wonders. As a starter, I order buckwheat soup.  The soup consists of yogurt, buckwheat, onion, spinach and purple basil. I like savoury soups and this one is a bit sour as well. In that respect, I like it. Buckwheat is cooked well. The soup is in the right consistency. Some places overcook these soups with lots of ingredients and they get mushy. Thank god, buck wheat soup at Ciya s still in the consistency of a soup. My second special,is a famous soup in Hatay, Börek soup. When my grandmother was still alive, she used to make this soup. In short, it's also renowned in Mersin. Imagine adding mantı (Turkish ravioli with minced meat) and chickpea in yogurt soup, it tastes exactly like this. Instead of rice, there's mantı inside. It's one of my favourite specials at Çiya. I taste it again thinking that I might have been subjective in my assessment as it takes me back to my childhood years. No, it's really good!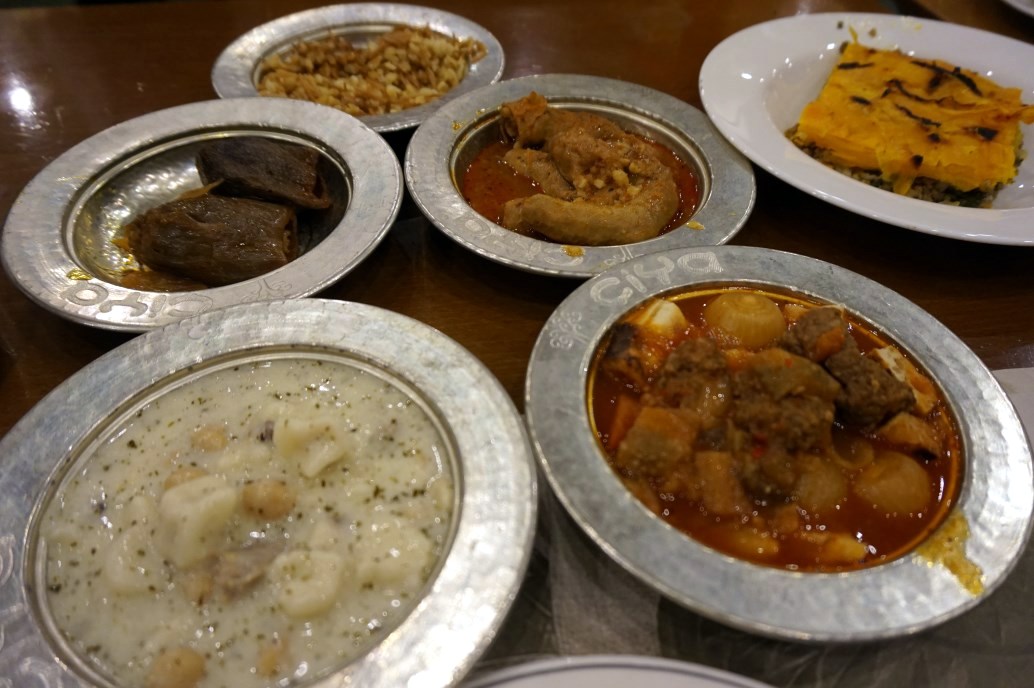 Diversity Contest in the kitchen
One of the best things I like about Çiya is the diversity of food. They don't force you to focus on a couple of main meals. Except for the starters with olive oil, there are 15-20 different main meals at Çiya.  I'd like to try two köfte dishes that attract my eyes. The first one is ekşilikebab (sour kebab). It consists of köftes made of sheep minced meat that comes with pide soaked in tomato paste sauce. It has delicious shallots too. Compared to sheep meat, köftes are a bit tough. The pides are seriously hard and they give me a hard time. Even the sauce couldn't get it softer. I find the other köfte dish, köfte with celery worse than ekşiliköfte. If I didn't know about the fame of Çiya, I would think that these meatballs are leftovers from yesterday. For some reason, these köftes in the structure of Kadınbudu köfte have become so hard that it's not possible to put your fork through it. I had one bite and left it. The celeries taste good with accompany of pine nuts. I believe these two köfte( meatball) dishes are the weakest link of the chain at Ciya Sofrasi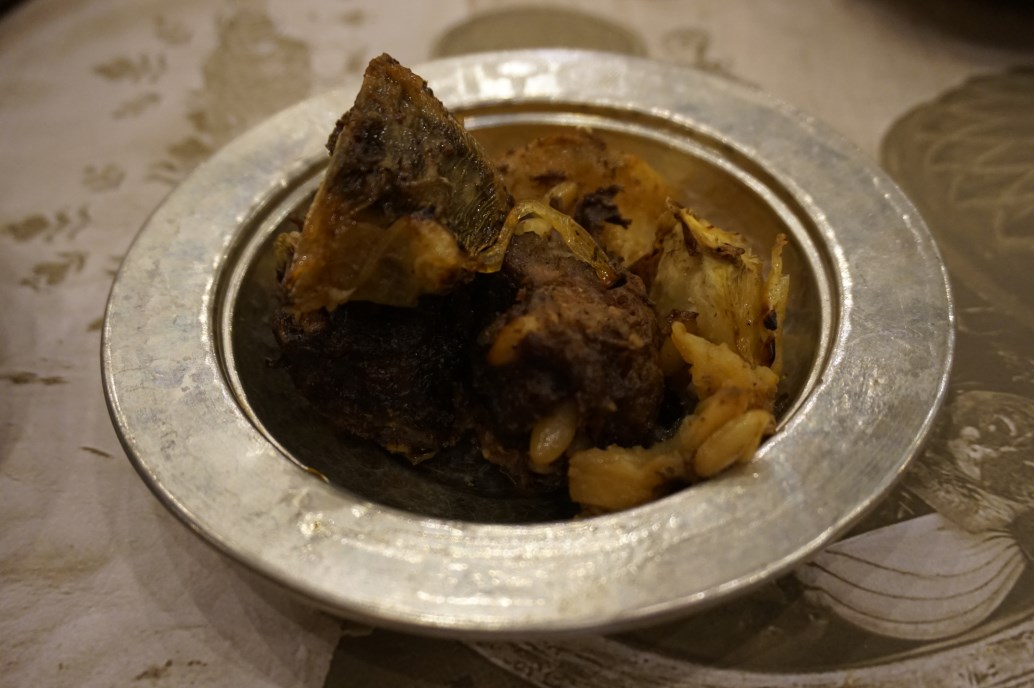 Their kuru patlıcan dolma's (dried aubergines stuffed with rice filling) are in the harmony of spiciness and sourness, like how it should be. The skin of aubergines is not hard. The rice is of high quality. I think a little bit of oil suits this dish. They haven't used any oil while making this dish, but it's not in exaggeration. They add a certain type of minced meat inside. Dried mint and garlic also contributes to the richness of this taste. This is a genuine South-eastern style dolma.
Another successful dish is mumbar. It's a Southeast Anatolian dish in which they add a filling inside sheep intestines. ÇiyaSofrası have cleaned the intestines really well. They've managed to get rid of dirt, and cleaned the membrane structure of intestines diligently for you to enjoy your food experience. Just like in dolma, rice is cooked well. I think hot pepper also suits in this dish. You can't avoid the tasty suet fat either. The moment you touch the meat with your fork, fat comesout. Therefore, I recommend you to eat it when it's still warm. When mumbar gets cold, it doesn't really taste like anything.
Open fire hasn't really impressed me
The open fire food menu of Ciya Sofrasi is full of different varieties just as Turkish cuisine menu. Besides classic kebabs, there are also some unknown Hatay and Antep style kebabs in the menu.  There are kebabs that you can hardly see in ordinary kebab places such as Japanese plum (YeniDünya) kebab, Gülbaharkebab and Oruk Kebab. With my friend, we order Ali Nazik, Gülbahar and Oruk kebab. Oruk kebab is a kind of kebab that is cooked in oven. As there's bulgur inside this kebab, I find it too dry. I usually look for fatty meat in a kebab.  The meat of Ali Nazik is good, but there's a problem with the consistency of yogurt with aubergine. I find it too fluid.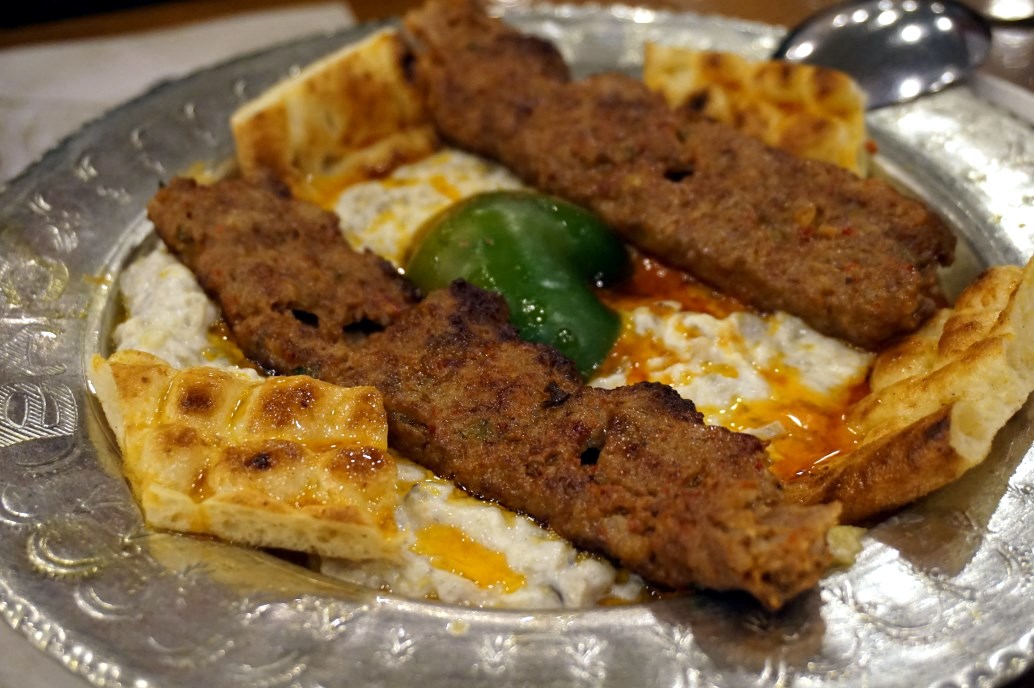 I like GülbaharKebab the most among these. The sauce made of tomato and walnuts is poured over the kebab made of a special kind of minced meat and they garnish this beauty with full fat yogurt. Tomatoes contribute a sour taste to this kebab, and the hard texture of walnuts takes away the monotonous experience of soft meat. For those who don't like kashar cheese with kebab, it's not a good choice perhaps, but don't worry, it doesn't dominate the taste of kebab overall. I find it a quite balanced harmony. Each ingredient is used in reasonable amounts. Compared to stews, I find the open fire kebabs somewhat weak. This might have to do with the really good kebabs I've had recently in Istanbul. Compared to those, these kebabs are a level lower.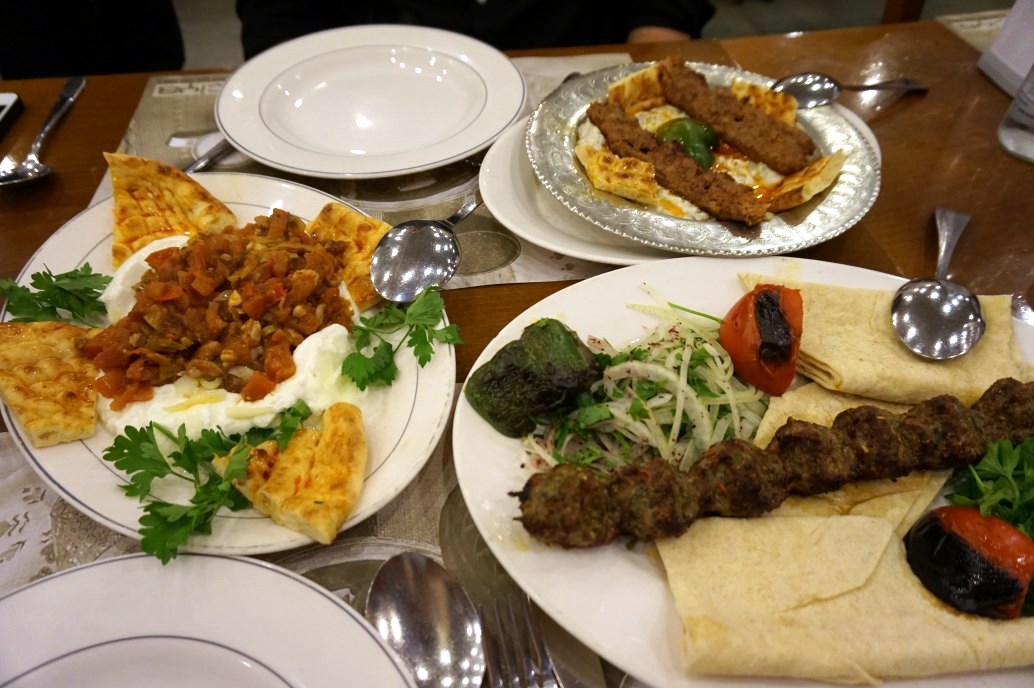 Pumpkin Dessert in Hatay style
Another interesting showcase belongs to desserts at Çiya Restaurant. There are tomato desserts, pumpkin desserts, citrus desserts, andeven olive and eggplant desserts. I'd like to try pumpkin dessert because I see this pumpkin dessert is rested in lime and I would like to compare it to those in Mersin. Their pumpkin dessert is nice. With tahini on top, they've helped avoid the oversweet taste of the dessert. It's good to capture this taste in Istanbul. It will be a good choice for those who are fed up with soft pumpkin dessert and would like to try a different yet delicious taste. At the end of the meal, waiters serve you thyme or zahter tea without even asking you. With this tea relieving your stomach, I also encounter the Anatolian hospitality of this place thatserves all beauties of Anatolian cuisine. As a customer, I'm happy to come here and I leave here with a smile on my face.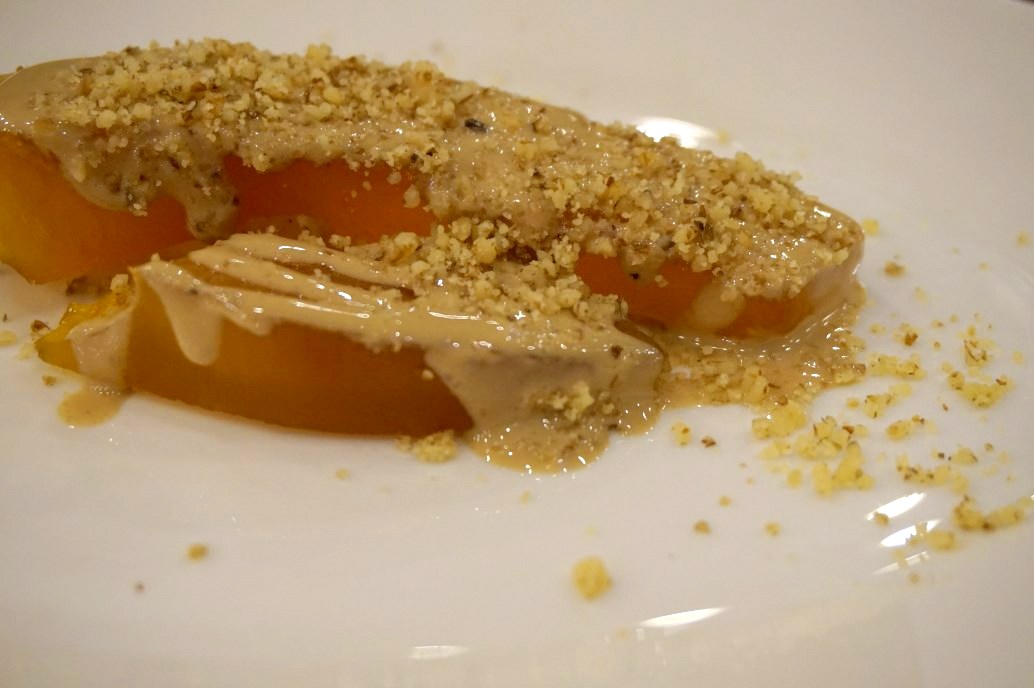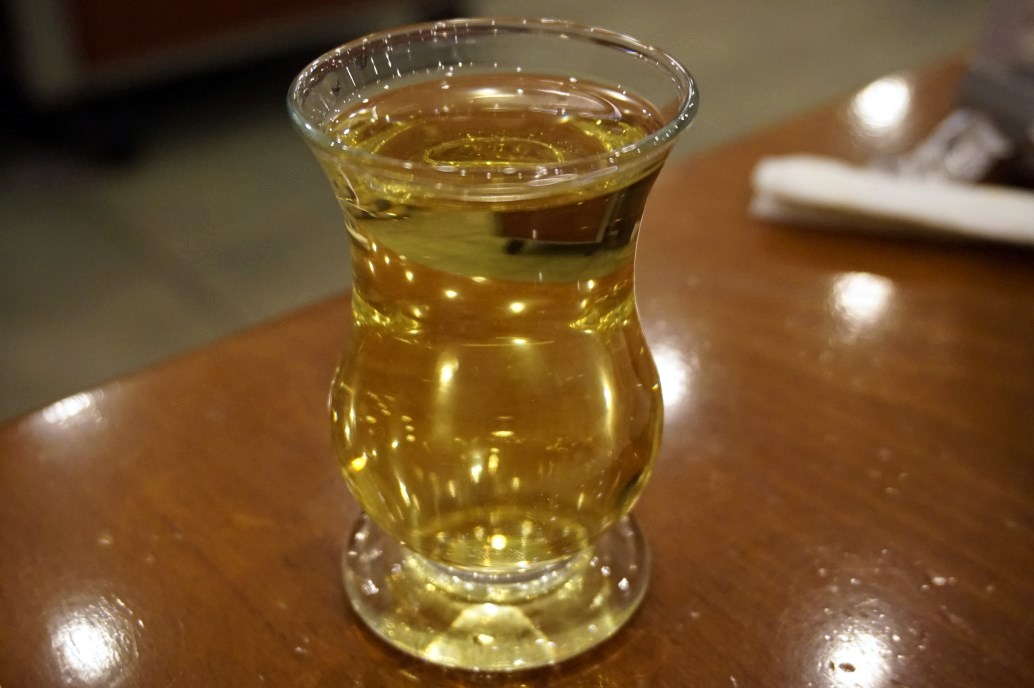 Evaluation: 8/10 
Adres: CaferağaMh., GüneşliBahçeSk No:43, Kadıköy/Istanbul
Telephone:(0216) 330 3190