Nişantaşı Found What It was Looking for
When you say Nişantaşı, everybody thinks about shopping, fashion, new fancy cafes, historical patisseries, and renownedbrasseries.  The other day I had a chance to eat one of the best meals I have ever had recently in this town, one of the most luxurious towns of İstanbul. And accompanied by good music… I'm talking about Frankie.
An exquisitely decorated lunchroom, besides a brilliant landscape that comes along with excellent meals.  I can say that Nişantaşı has found what it has been looking for. And maybe more than that.
Next, we move on to the main course. I come across something I would only see in American movies, something I'd always like to see in Turkey. While fancy looking people are having their refined meals, a woman in a black dress, with a velvet voice, is singing soulin the background.  Suddenly I feel I'm in New York. It's such a nice ambiance here! Before we start our courses we get detailedbackground information about the place. He brings us a soup made of Chardonnay grape and wine leaf as amuse bouche. The mandate cream) on top is genuine. The soup is delicious. I compare it to the famous Iranian soup AŞ made of various fresh herbs. They put a wine leaf under the cream. The soup gets an excellent grade from me this time.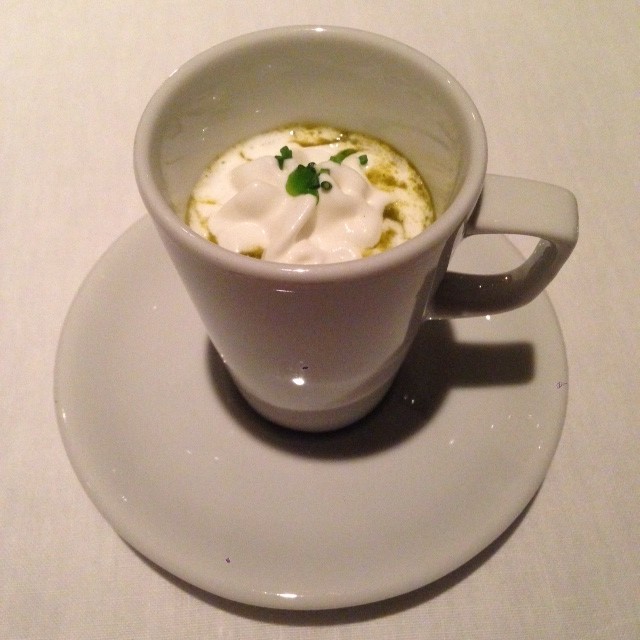 We order a papardelle with saffron, grilled rock sea bass and lamb küşnemekebab as main course.Papardelle turns out not to have saffron, but instead the dough has it. So the saffron doesn't overwhelm the taste. The dough is a bit softer than al dante, and ishomemade. This is a sign that the Greek chef is doing a good job also with international meals. The Parmesan is not in Italian standards, but the freshness of the vegetables is excellent. It's obvious that they are diligently chosen and taken care of. Please pay your attention to the meat, the sauce of which resembles to Bolognese sauce but is different in taste and formation.  You are not eating minced meat, but meatchopped with cleaver. It does not disappear; it says, "I am here" in every bite.  It's an outstanding sauce!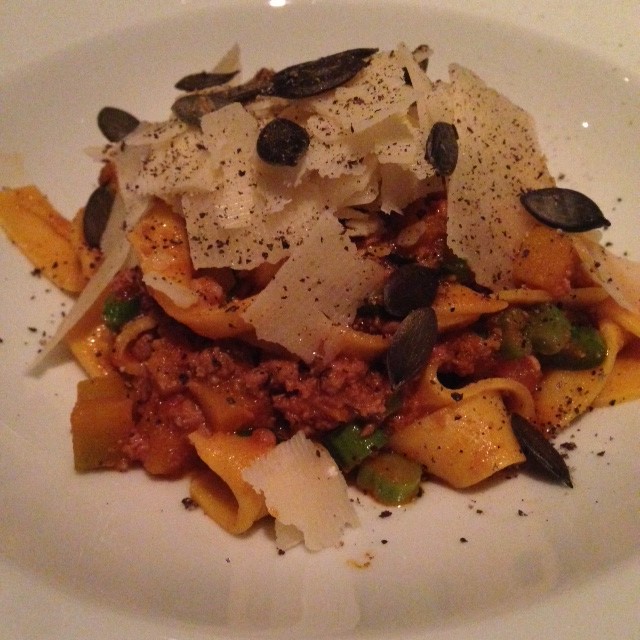 Küşneme is tasty. Although we ordered it medium-cooked, it came a bit overdone. It would have been beautiful if it had not lost the soft meat juice.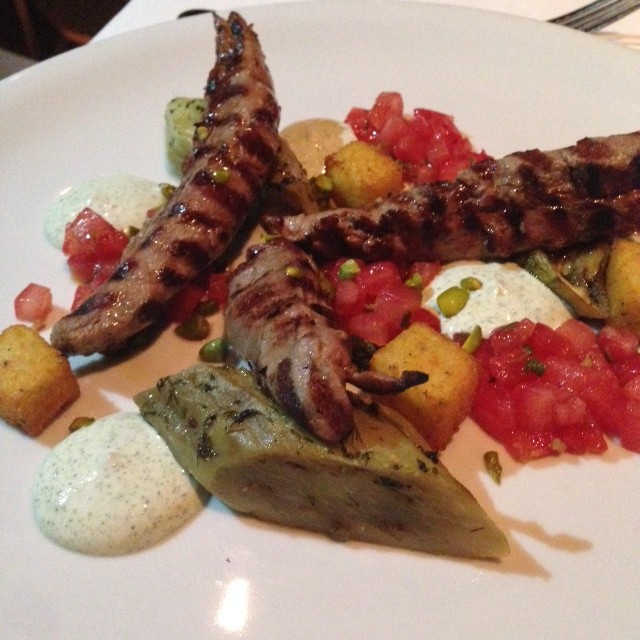 Let's move on to my favourite: Rock seabass! The dish consists of a rockbass and a vegetable mixture on top of celery puree, which is made of pureed celery with vegetable broth.  On top, espagnol sauce creates a climax of contrast. This sauce is in a demi-glace category, but is different than demi-glace sauce that contains alcohol; this one rather has butter and flavour. My fish is juicy, meaty and fatty. It's in a great harmony with sauces. The puree is spectacular. It melts in your mouth. Call on to those that make a face when they hear rock bass: don't give this taste a bad name and be open to new things!
The favourite desserts are Pistachio Cheesecake with Yogurt.  If you close my eyes and make me taste this dessert I will feel like I'm eating Kerepiç served on limed pumpkin in Mersin. It's an outstanding taste. The other dessert, brownie, would make chocolate fans happier, but I can't be objective as cheesecake reminds me of my hometown and I prefer this instead.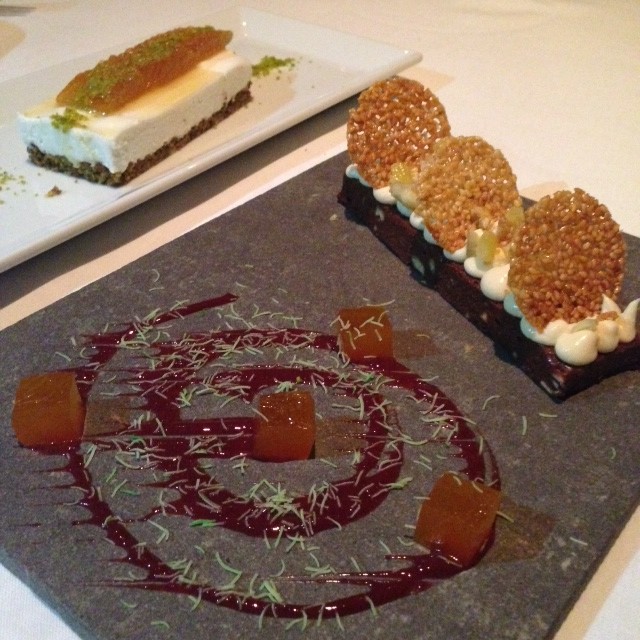 Unwittingly, I'm actually travelling across İstanbul, New York and Iran. Isn't that what makes a lunchroom so great? To make you drift away from one place to another and make you daydream?
Evaluation: 9/10
Adress: Teşvikiye Cd The Sofa Hotel 41/A,
Nişantaşı/Istanbul
Telephone:(0212) 368 1818