Restaurant & Bar Concepts Together
Flamingo Restaurant is at the center of Harbiye, on the ground floor of Ceylan Intercontinental Hotel's building. Keeping up with the lively and colorful location, Flamingo gives you the chance to end your evening of good food with a vibrant bar concept. If a good night out means good food, drinks, fun, and fine music to you, Flamingo Restaurant is your place. It is decorated with aesthetic lights that won't strain your eyes, and it has a creative bar that makes excellent cocktails.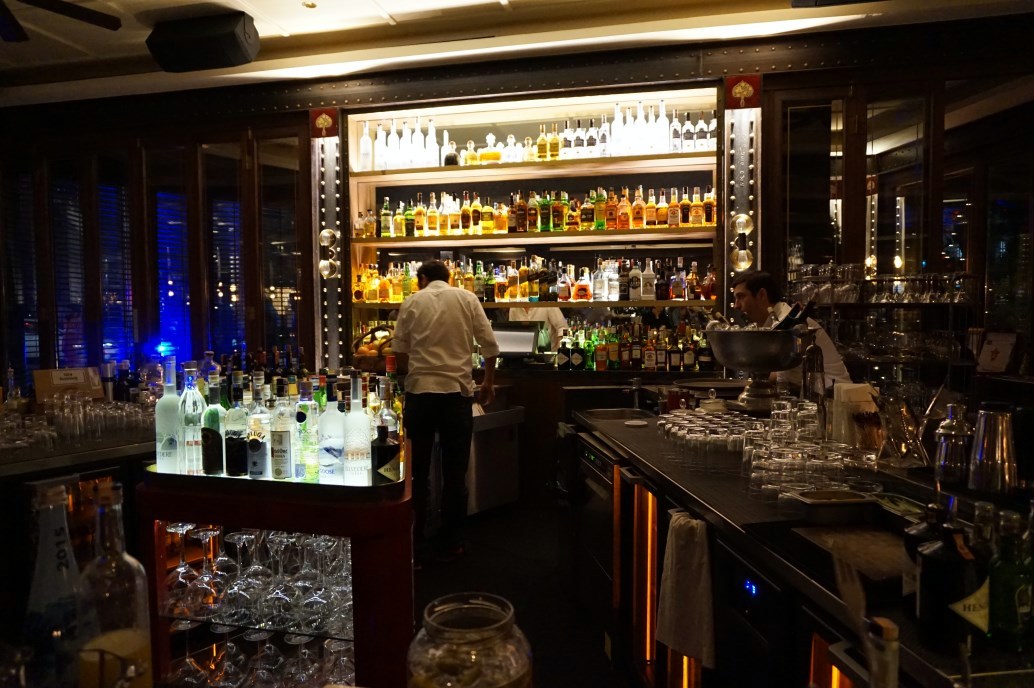 Aydın Koca and His Team
I don't know if you know anything about Aydın Koca. I became acquainted with him this year – a very kind gentleman, and closely involved with Flamingo. His team, unlike many other restaurants, consists of well-educated people who have good knowledge of food, wine, and customer psychology. They lead the customers brilliantly to have a great evening. They choose the best dishes and wines that would accompany those dishes well from the menu, according to your taste and directions. Their knowledge of wine is not mediocre and ordinary. They attend certificate programs on this subject, and I think, they love their jobs. While  I was leaving the place that night, here is what I thought about this team: No one can surpass the customer satisfaction created by a team that knows and loves what it's doing!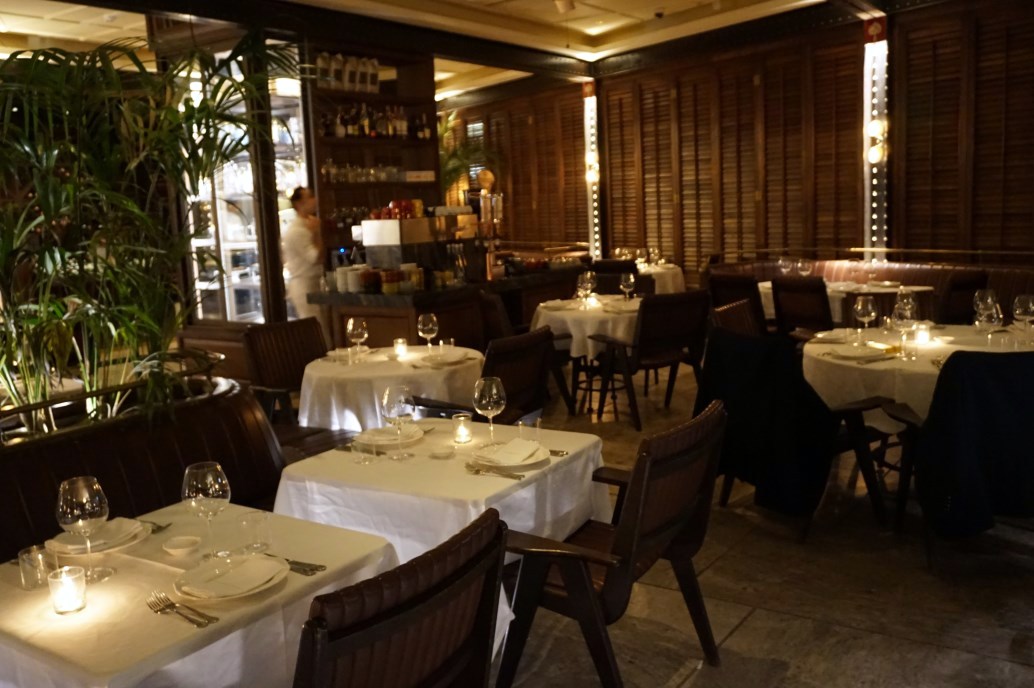 Wonderful Delicatessen Corner
When I think of Istanbul's finedining restaurants, one of the biggest deficiencies is the delicatessen sections. If you've noticed, most of the Michelin-starred European restaurants have a delicatessen section that introduces the cheese culture of the country. Some of them even perform with knives while cutting bacon. I think, Turkey needs to start bringing such places into being, especially to create a more familiar atmosphere for the foreign tourists. There is a good delicatessen section in Flamingo of imported cheeses, pork and beef products. I recommend you to get a plate of these delicacies with a good wine before dinner.
Simple and Delicious Menu
One thing that will catch your attention is the neatness of Flamingo's menu. Each section has its own order, and the menu isn't full of eye-straining details. Same goes for the plates that come before us. The dishes aren't served for showoff, they are there to be eaten, and taste comes before flamboyance.
For starters, we ordered foie gras (goose liver). It was marinated with sweet wine, dark in color, fatty, soft, and of good quality. It was cooked very professionally, and served with fried brioche. My wife, my friend İdil Çelebi who has a good taste in food, and her boyfriend also gave a good mark to this specialty. It was 48 liras (18 euros).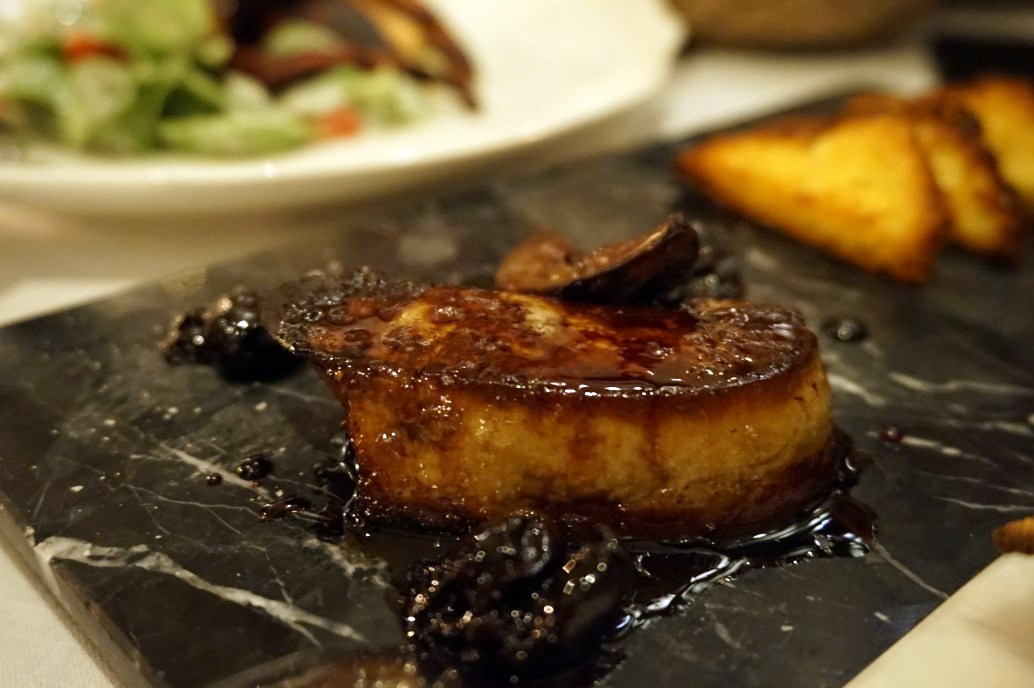 The octopus we were served with after this dish was a bit tough, but you can still tell that the ingredients were fresh. I don't like it when too much salt or wine is used with grilled octopus. Its fantastic taste stands out better when these supportive flavors are used less – and that's how they cook it in Flamingo. Grilled octopus was served with a truffle flavored chickpeas, purslane and tomato salad underneath it. 32 liras (12 euros).
Sea bass ceviche is a dish I definitely recommend you to try as a starter. It's a feast of fresh, acidic but balanced raw fish, served with red and yellow bell peppers, cooked with tarragon. Seabasses were chosen very well. Emre Şen, the chef, created an extravagant dish without using too much salt. It was my favorite at Flamingo. It goes well with an acidic white wine.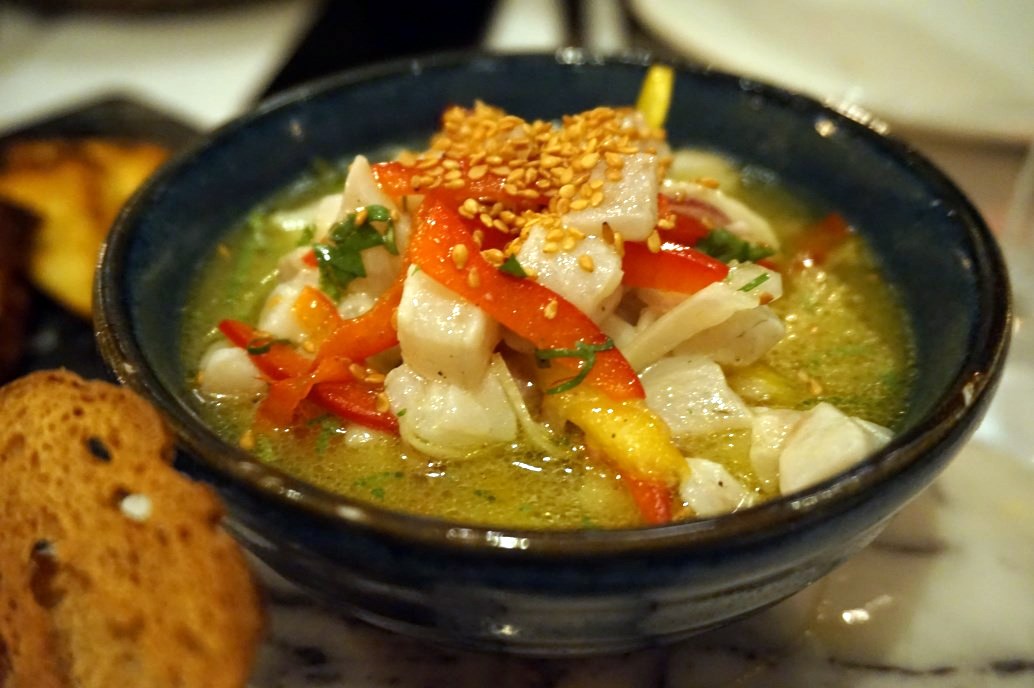 Meat Dishes are Good, Sea Bram is Dry
For the main course, we ordered sea bram, lamb chops, veal ribs, and steak fillet. I find steaks' taste a bit weak, so I chose lamb chops instead. The dish was quite good; it was fatty, juicy, and slightly pink. It was pan-seared but not simply to take the easy route – they don't have coal grills, so they had to use a different method of cooking. Considering all the tastings I've done (including the ones abroad), this lamb chop ranks in top 5. It has the two most important features I look for: 1) a good quality meat 2) a good quality cooker. 58 liras (21 euros).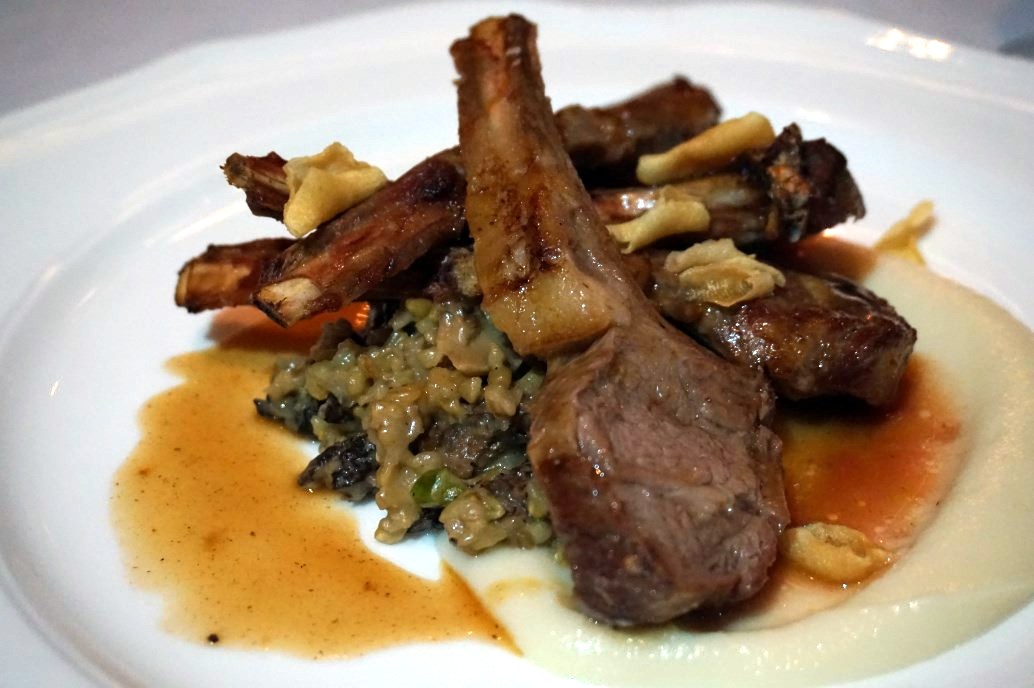 Steak fillets were good but veal ribs were much better.Steaks were served with a delicious potato au gratin and asparagus. Veal ribs were tender and melted in the mouth. They were served with gremolata (lemon zest, garlic, and parsley), and saffron rice on the side. 62 liras (23 euros).
Just a little note, remember how I mentioned simplicity above? None of these dishes came with ornaments and various sauces on the plates. They serve exactly what you order.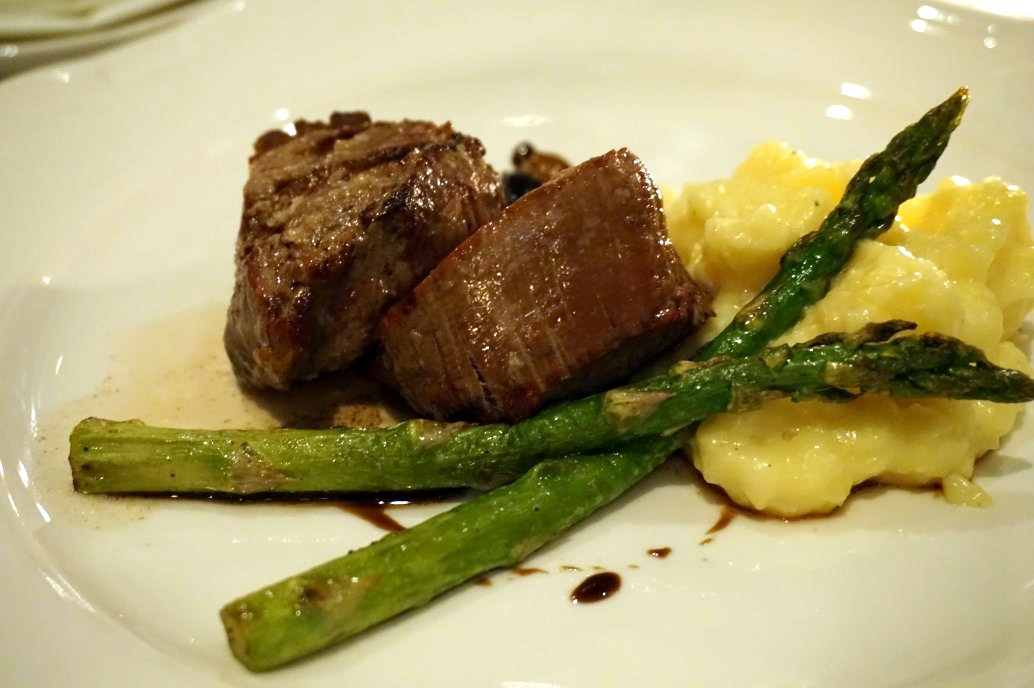 Flamingo Restaurant's weak spot ended up being the sea bram. I have nothing against the quality of the fish. Aydın Koca told me it's sea bram and I believe in his word. But it was cooked so much that the fish lost all its juice. It was completely dry and its scales were burned. In short, their meat dishes passed and the fish one failed.
Among their desserts, I recommend you to try tiramisu, it was as delicious as the ones I had in Italy. I really liked it.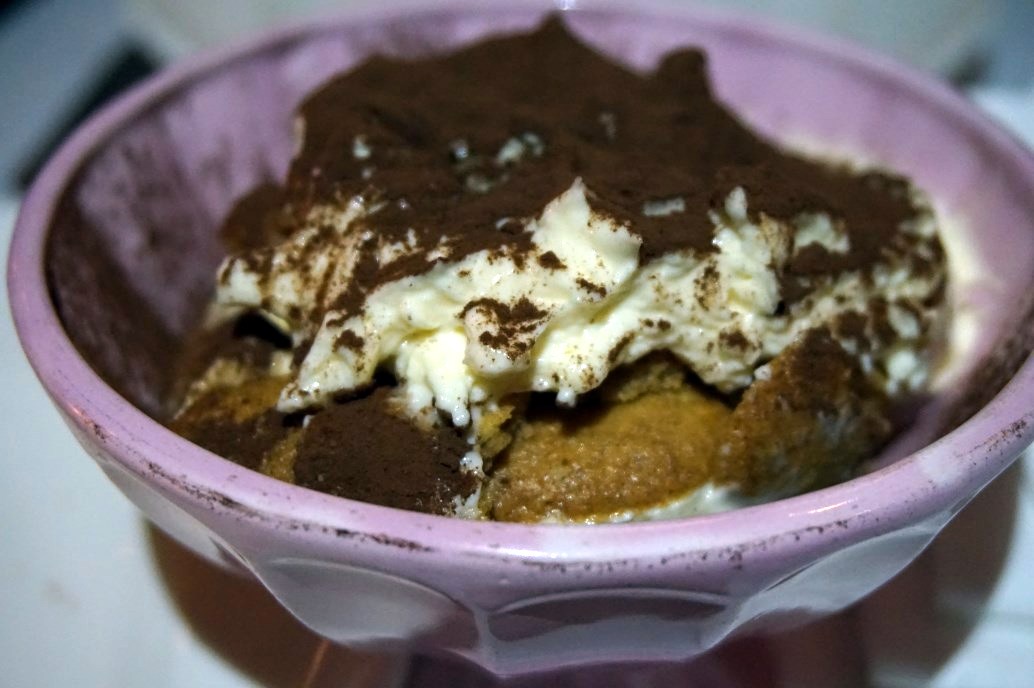 While you make your stomach happy with all these wonderful dishes, people who pass by you start going to the bar section, enjoy their drinks, and dance. Deep into the night, you start accompanying them from your table while sipping your drinks or even get up and join the dance – the music is of high quality.
Long story short, if you want to be served well, check an open kitchen with mind at peace, and find different features all at once, Flamingo Restaurant & Bar is the place for you. The best thing is, you don't need to get on the road again to find a new place for the rest of the night. Food, drinks, fun, and music – you find it all in here.
Evaluation: 9/10
Address: Asker Ocağı Cad. No:1 Taksim/İstanbul(ground floor of the Ceylan Intercontinental Hotel building)
Telephone: +90 212 232 6868