Where the heart of the city beats
Grandbazaar and the surrounding is maybe the busiest district of Istanbul.It's not only jewellery and foreign currency exchange and gold trade, the key elements of the economy, that do business here. At the same time, clothing, carpet, tourism and even food sector benefit the blessing of Kapalıçarşı.I always see this historical place as where the heart of the city beats. If the business is not going well, and the market is calm, you should know that it's probably the same in all around the country. If there's action, wealth and happiness, it's probably the same all around. I would like to write a couple of things to satisfy the bellies of these busy people who maintain this livelihood here. Three of these are döner lunchrooms in grandbazaar: Dönerci Şahin, Gülebru Kantin and a station away from grandbazaar, Dürüm Büfe.
Grandbazaar Restaurants
Dönerci Şahin
This is a döner lunchroom that has been running for years around 100 m distance away from Kuruosmaniye gate. It's located by Mahmutpaşa slope, and is in between Kılıççılar Street and Çuhacı Han Street. Döner of ŞahinUsta is highly favoured not only by the artisans, but also local and international tourists.The space inside is not even 5-meter squares. If there were 5 people in the room, you'd probably feel overwhelmed. Here, in such a small space they make döner. The indicator of their success is the queue that goes on for meters. To assess the dönerŞahinUsta makes, first of all it's not thinly sliced. This döner prepared from 100% beef does not have much tail fat either. The meat is entirely prepared from young calf meat. Why young? Because the older the animal gets, the tougher their skin becomes. In my evaluation of the best döner in Istanbul, this place gets 6.5 out of 10. Because I find it too dry, it doesn't have enough fat.However, I really like pita bread they serve with döner, and especially onion salad with sumac. What they serve next to it, as ayran, is homemade and is of a sour kind. It's a good choice for those who like low-fat döner.  Just as many people, I find their 13 TLpriced  pita-döner a bit too expensive, as it's almost impossible to feel full with one portion. But ŞahinUsta right too. The queue is so long. This is a matter of supply and demand…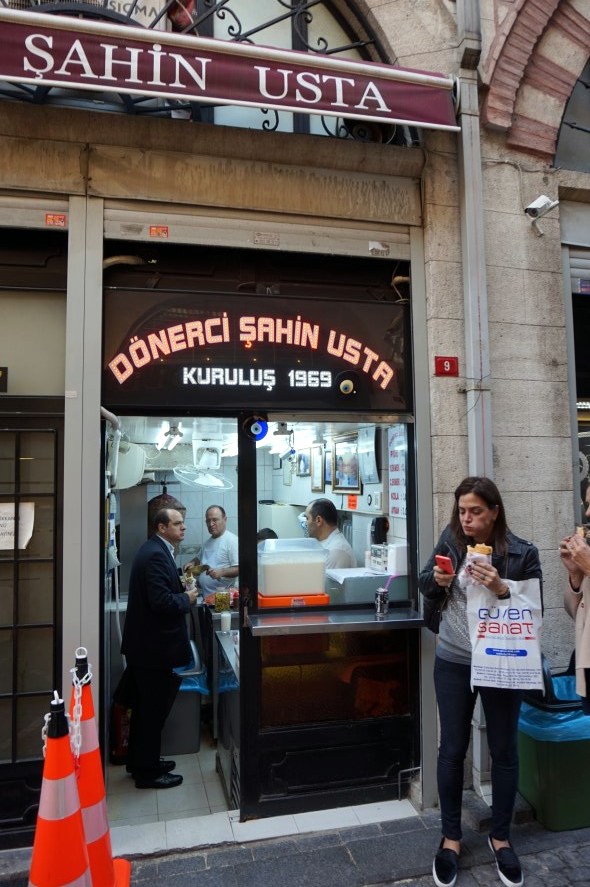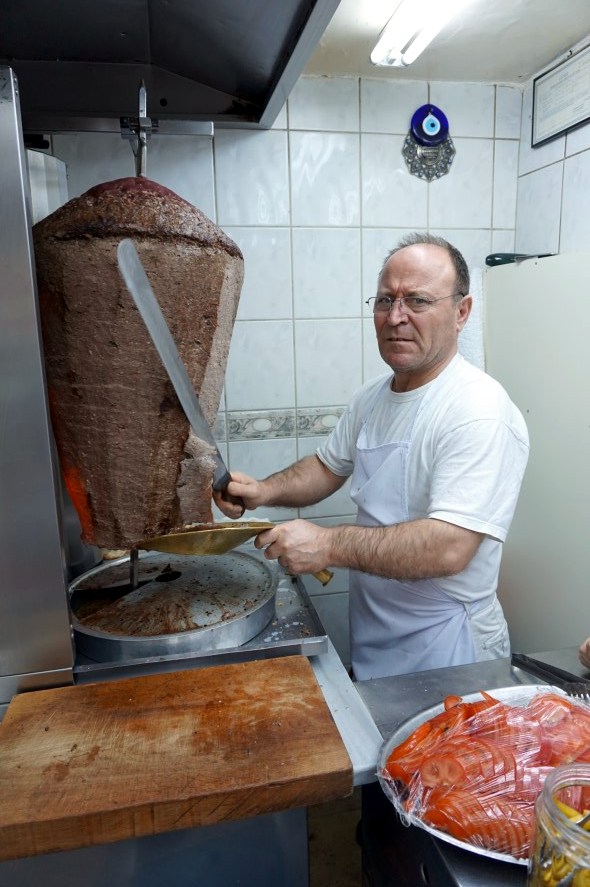 Address: TayaHatunMh., MahmutpaşaYokuşuSk No:9, Istanbul
Telephone:(0212) 519 1248
Gülebru Kantin 
Döner at Gülendöner, the place which is located in Kapalıçarşı still resisting to the modern gas stove trend and still serving their döner at coal stoves is made of 100% beef. This meat full of tail fat is cooked in a way that it's still juicy and not dry. I think it's one of their masteries. The quality of their meat is good. Döner is sliced in front of you and served warm. The only flaw is the pita bread they serve next to döner. It's too hard and dry for such a beautiful meat. At the same time, unfortunately their pickles are too soft, and wilted. As our main focus is döner, I'm making my assessment based mainly on döner, but as it's a complimentary element to whole döner experience, this also influences my grade. Their ayran is self-made. I always express how I don't like ready ayran, it's just too easy. I've given them 7.5 out of 10. I'm also happy that they've found such a good spot in Grandbazaar.
Address: Gül Ebru Kantin Kapalıçarşı  Fatih/Istanbul
Telephone: 0212 512 33 93
Dürüm Büfe Beyazıt
Dönerci Şahin and Gülebru Kantin are right in the middle of grandbazaar, or just a couple of meters away. Dürüm Büfe, on the other hand, is in Beyazıt town. I've found out about DürümBüfe on a recommendation made on Instagram during my Kapalıçarşı tasting tour. I'm happy to have found this place. When you get off at Beyazıt stop, and take the first street on your left, it's located on the right street of President Hotel. It's a secret taste heaven in a corner. It's two storeys and this place is a clean and humble lunchroom.
Döner at Dürüm Büfe is also made of 100% beef meat, but different from other places, they use lamb breast besides tail fat. This is meat that covers ribs. Their meat has lots of fat and no smell. Although cooked on gas stove, they manage to cook meat without burning it. This also has to do with the amount of customers. There's no time for meat to dry up and get burnt due to the demand of customers. There's a hint of hot spiciness in their meat. It's used as an appetiser element. It works too. It's not a type that burns your mouth; the amount of spiciness is on a level that amazes you. The side dish, bulgur pilaf is light and is not drown in tomato paste.  Their lavash is not cooked in tandooritechnique, but I can't say it's tasteless. I think their biggest flaw is the fact that their ayran is not homemade.  Besides, it's a bit too salty. However, their döner is sensational, it's a kind that can make a name in whole Istanbul.  I give 8 out 10 in my assessment. Their hygiene level is also very good. Everywhere is clean. I hope they never change.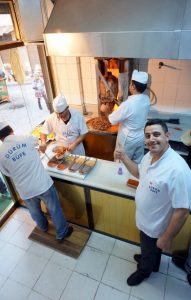 Address: Tiyatro Cad. Pehlivan Sok. No: 6 The Present hotel Dük:1. Sirkeci, Istanbul
Tel: (0212) 518 0483