A Professional chef and team
Massimo Bottura is one of the most important representatives of Italian cuisine in the world. He's the chef of the restaurant OsteriaFrancescana, which received 3 Michelin stars in assessments and in this respect, it has reached a top-notch level.  It's very difficult to see chefs like him in restaurants. Due to pride that comes with fame, they are gradually less seen in public or dealing with customers. Imagine, such a famous chef prefers Istanbul, the most rapidly growing metropolisof recent times to add a new member to the restaurants he has in Italy. The new team consists of distinguished waiters and outstanding sommeliers who have proven themselves at the best restaurants in Istanbul. I admire the success of the staff as much as the success of chefs in dishes. You'll be welcomed with a chicness that comes with simplicity at Massimo Bottura. The location of lightings is just as the ones I've encountered at AkaretlerGile and ÇeşmeAlancha Restaurant; the lights are directed on the table. By this way you can clearly see what you're eating.
Black Cod is delivered from abroad
We've decided to begin with seafood starters and go on with pasta and meat dishes later. Black cod fish, "morinobalığı" in Turkish, is imported to Turkey from abroad.  This fat cold-water fish favoured in many European countries and served at Michelin-starred restaurants in tasting menus is a very delicious fish. Chef Bottura presents this fish with white vine vinegar, pistachio, anchovy, tomato pesto cooked in the oil of the fish, and a sauce prepared with olives. On top of the fish, there are croutons and rock salt sprinkled. With the recommendation of our waiter, we crush these 3 layers with our spoon and taste it then.  By this way, Chef Bottura aims at customers experiencing 3 layers (sauce, fish and crouton) simultaneously. The taste of the fish is good, yet I wish it were more fresh and, perhaps I wish it were a product that came from Turkish seas. Unavoidably, the frozen fish loses some taste. Nonetheless, the sauce saves the day. Perhaps Chef Bottura will create starters from quality fish from Turkish seas and thus make a nice gesture for Turkish people, and prevent the risk that emerges from serving frozen fish. I might be thinking this way as I've had the fresh ones abroad. For many people who have never tasted this before, it's a good way to experience this fish for the first time.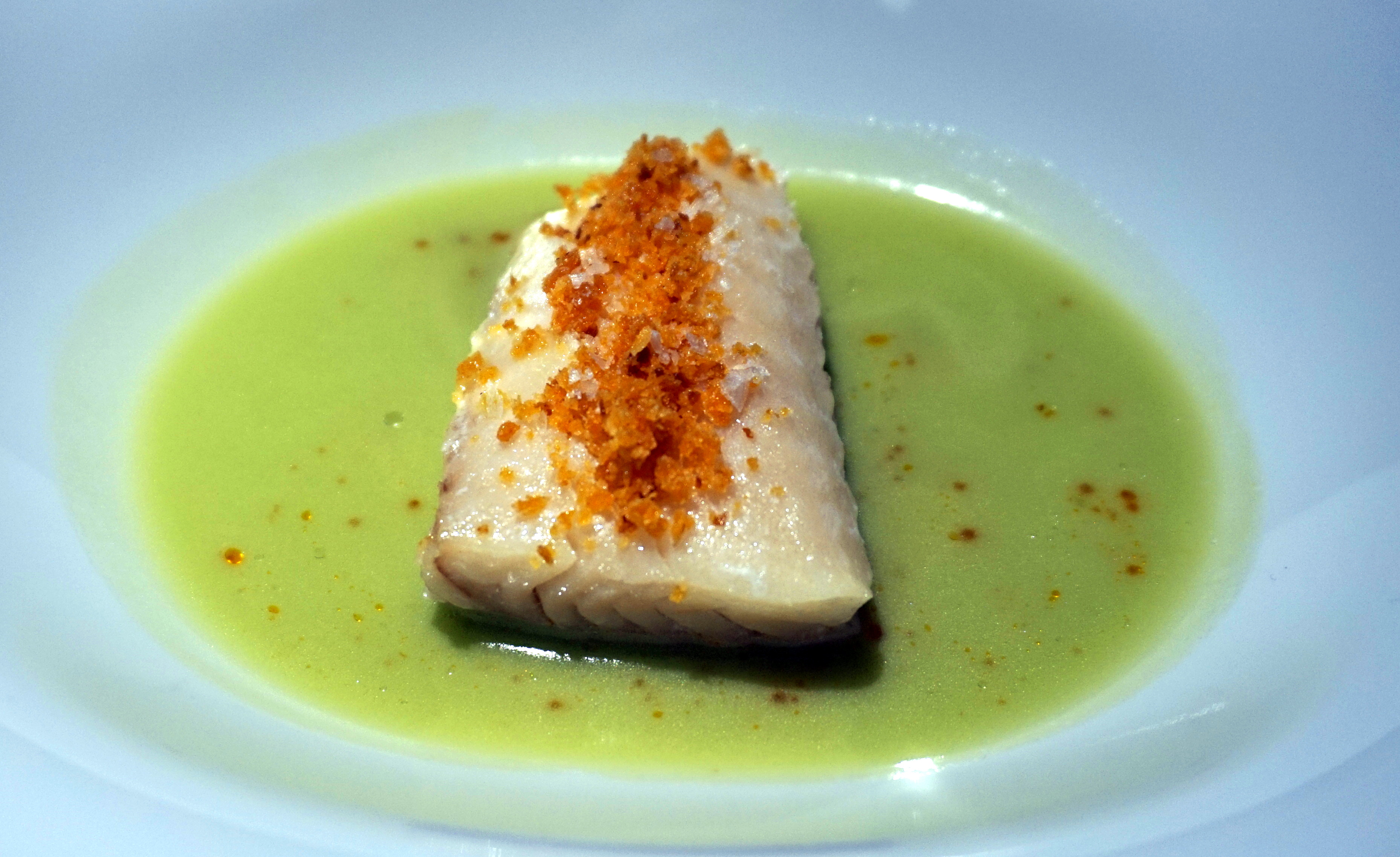 After, we order grilled octopus onthe recommendation of our waiter. The most special quality of this octopus is that they've captured this soft texture I can't experience at many places in Istanbul. Usually, octopus is served in salads and unfortunately, is very tough. But, I must say the octopus served at Massimo Bottura Restaurant is excellent. Instead of grilling, they've used the method sous-vide. Basically, they've vacuumed octopus in a bag and cooked at a certain temperature, and by this way the juice is kept inside and is soft, and the outer layer is prevented from getting burnt. So, you don't have the disturbing intense smoked taste. I can't really grasp why they've presented it with pea puree though. Although successful in terms of taste, I don't understand why they have combined it with octopus. Artichoke, homemade ricotta cheese and especially comfit tomato are excellent side dishes accompanying the dish.Suddenly I ask myself whether Signor Bottura means to represent Italian flag here. Perhaps he meant to use the green colour of peas. It's truly a happy experience for me.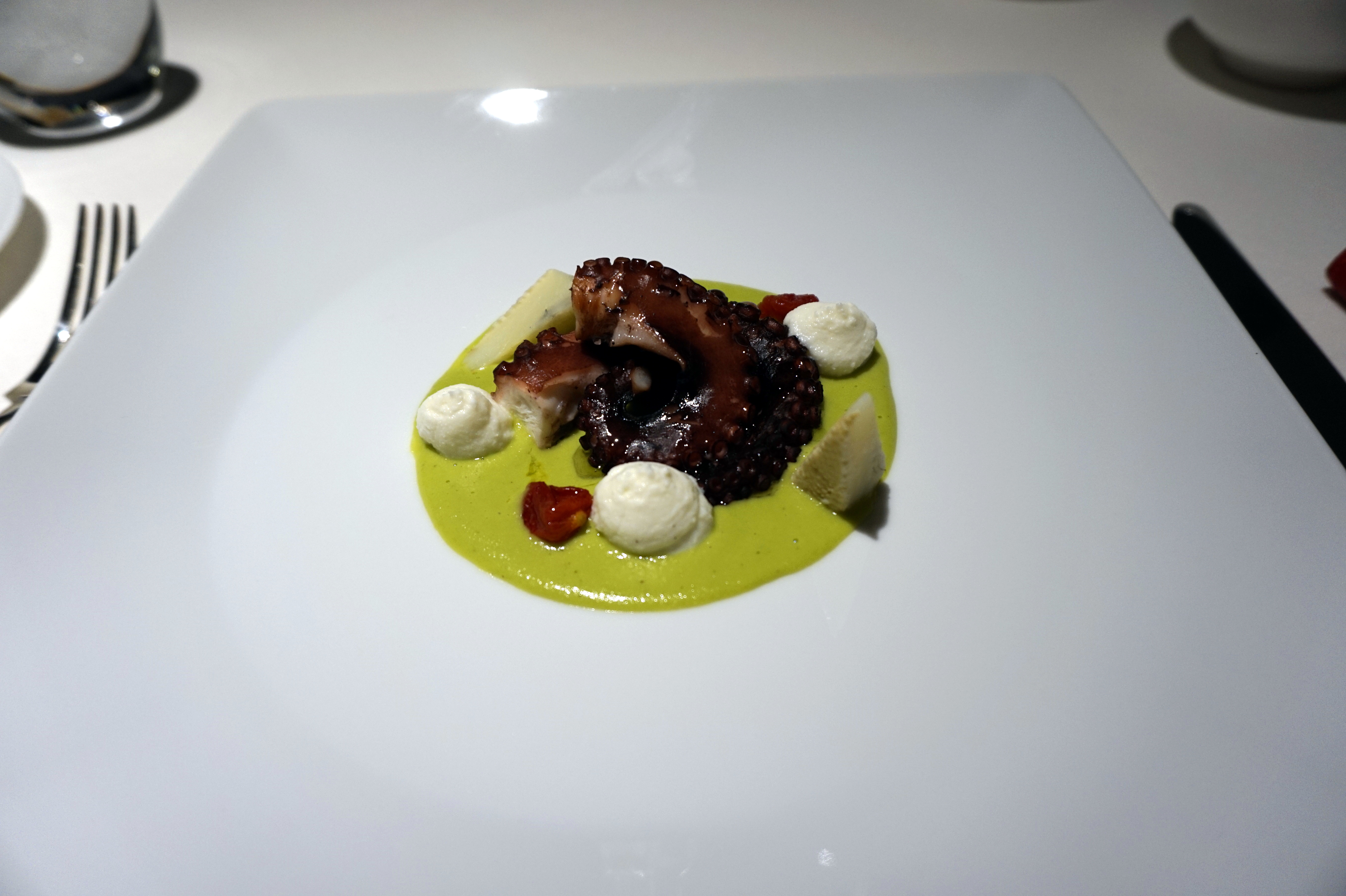 Thereafter, Tagliatelle al ragu I've shared with my wife is served with a meat sauce made from the mixture of beef cheeks, tongue and tail. The outstanding quality of this top-line sauce is that it has a touch of Parmesan. It shows us how good their tagliatelle pastas are. Not sticky on your teeth, it has anelastic structure that remains well cooked. Here I am, encountering the harmony of beautifully cooked pasta with the soft texture of meat. If it were an ordinary place, they would serve this pasta with sirloin steak with mushroom and tire out your jaws with two tough structured foods.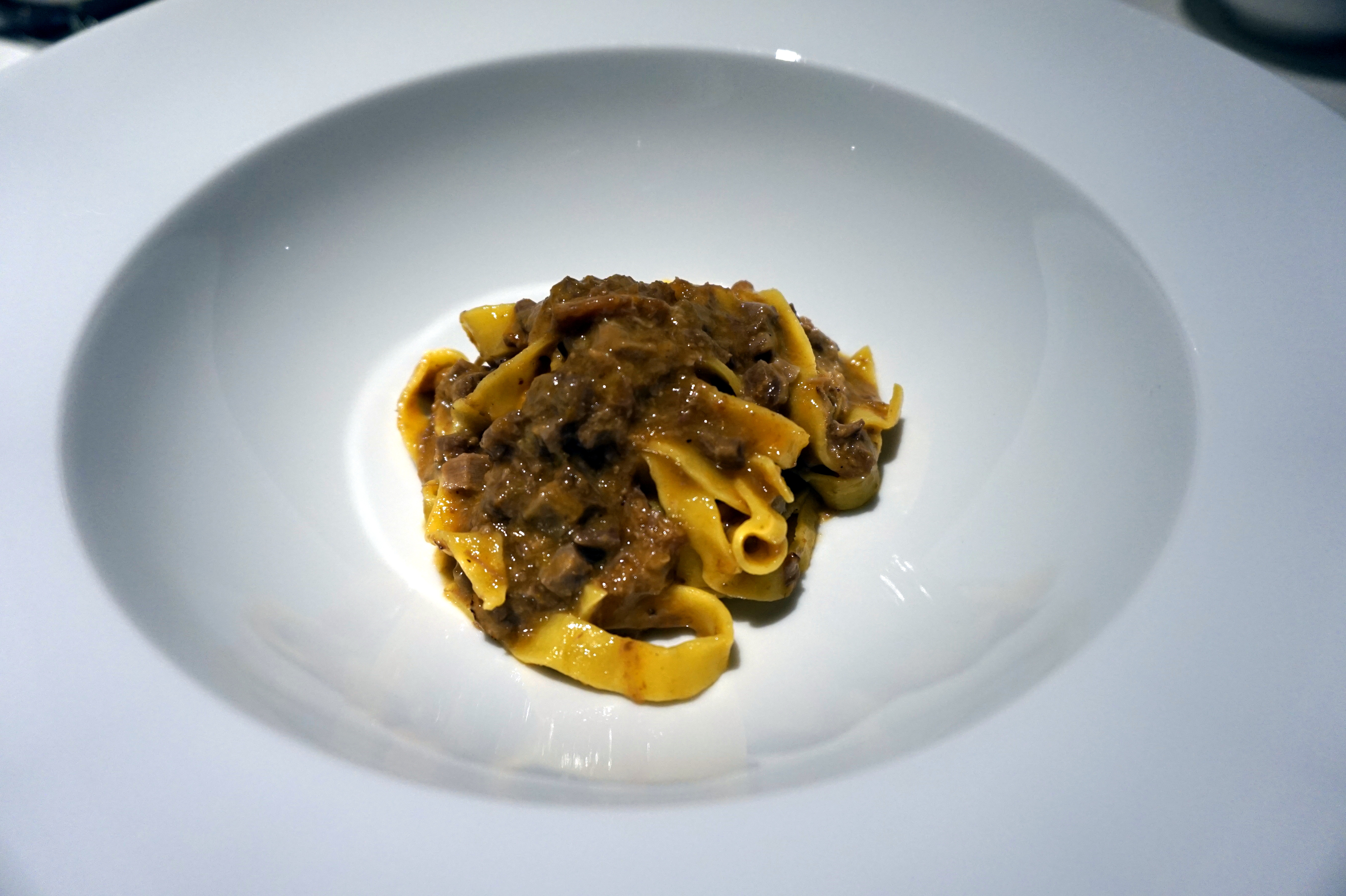 The main course, tongue dish consists of calf's tongue cooked in a vacuumed bag at 65 degrees for 72 hours. After sinews and edges of the tongue are chopped off, it's roasted for a short while so that the outer layer remains crunchy. It's presented with parsley sauce, and the visual and sensational contribution of Dijon mustard for the taste. Finally, the last touch is the olive oil Massimo Bottura uses at all his restaurants all around the world.  The quality of the side dish, chicory surprises me. Cooked with rock salt, it's full of taste. I can't help remarking the fact that this meat prepared for hours with elaborate effort makes the best of this meat. Yet, there's one thing I need to tell those who don't like soft meat: sous-vide method is not for you. It makes meat extra soft.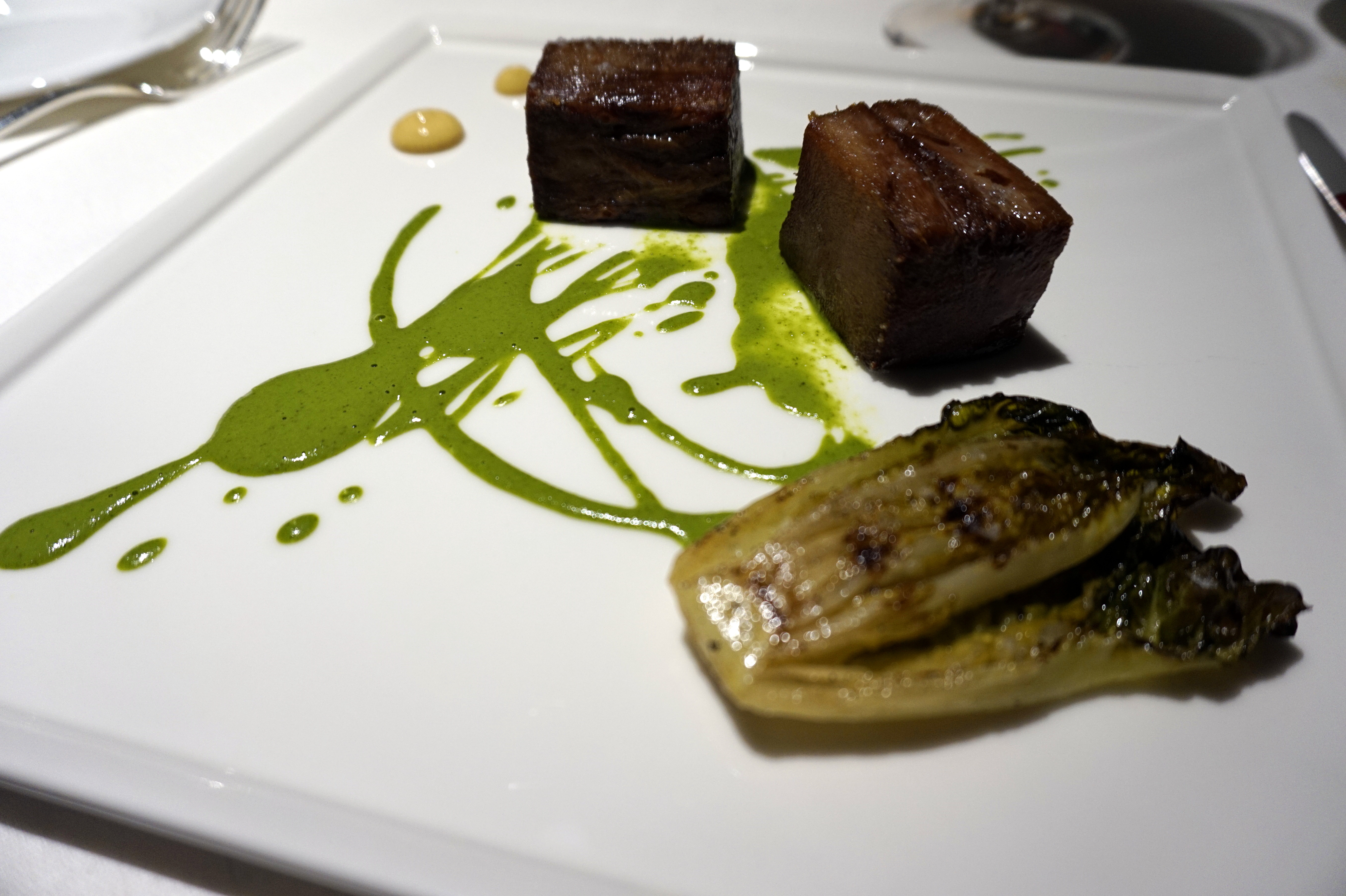 What my wife has, Cotolettad'agnello-Abruzzo is similar to Cotolett Milanese I've had in Milano- it's prepared by covering chopped steaks with bread crumbs and frying them in oil. The yogurt sauce consists of yogurt, cucumber, dill and another key contributor that marks the taste of meat: honey. Although good in terms of the quality of meat and the harmony of sauce, it's not a striking experience for me.
I can say that Ristorante Massimo Bottura is the renovation of Italian cuisine for global kitchen. It does not take your time with dominant Italian tastes like pastas, tomato sauces or pizzas. This place presents you quality food in Italian style… I'm not sure whether you like your appetizer before or after your dinner, but I'd definitely recommend you to try Earl Grey Martini. With the scent of bergamot, it's an excellent cocktail that makes you feel as if you're having an aromatic tea.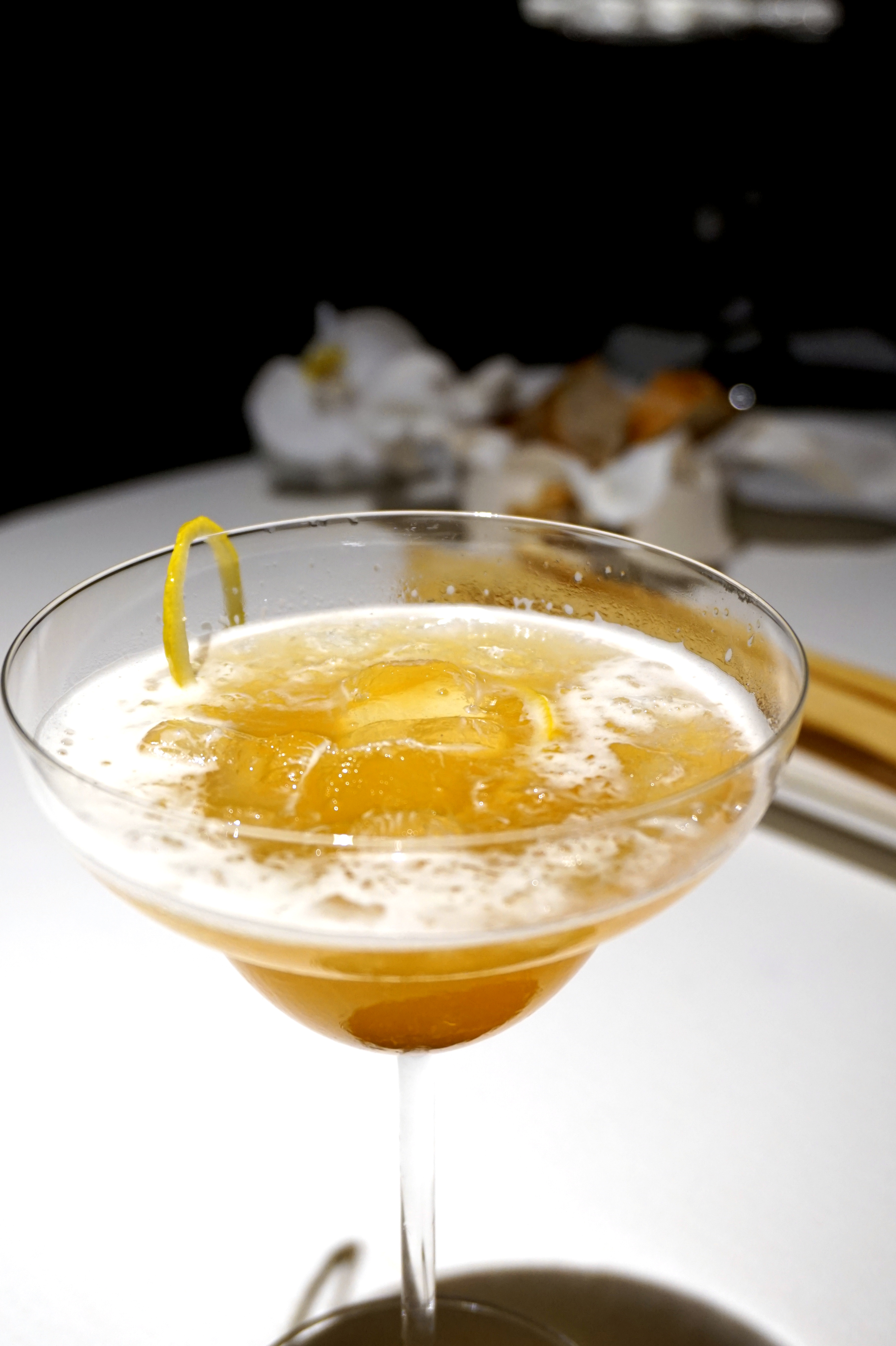 Evaluation: 9/10
Eataly Zorlu Center (Zincirlikuyu Cad.) Gayrettepe/istanbul
34340 Istanbul, Turkey
Tel: +90 212 336 66 66