An old-timer of Tarabya, Kıyı Restaurant
Tarabya has its own, special tranquillity about it. I can't feel at peace like this anywhere else in Istanbul. It has all sorts of places for your mood: if you're looking for simplicity then it's simple, if you're looking for luxury then it's right here, and also village life if that's what you feel like. It's also possible to see fancy people living at waterside mansions having breakfast at loose breakfast places, and also people living in simple flats greeting rich Istanbulites. An old-timer of this beautiful town is Kıyı Balık Lokantası (restaurant). If you ask the best fish restaurants in Istanbul, Kiyi Fish Restaurant would be in top five of the list. It's beautiful as the town herself, and it's such a loyal place to be.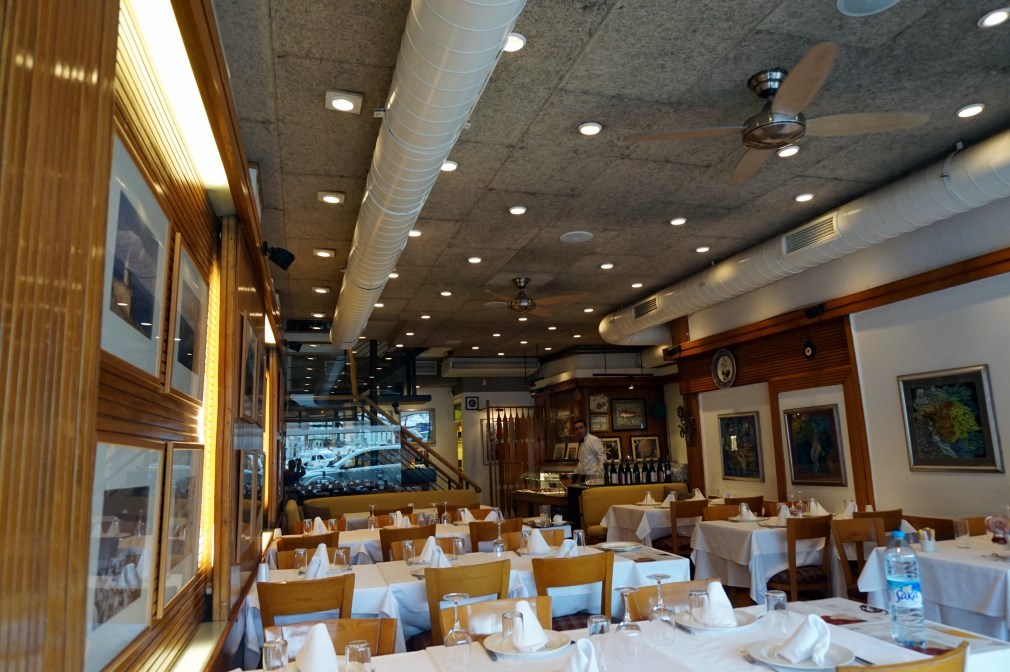 An excellent Bean Pilaki (Bean Salad)
Kıyı Balık is a fish restaurant that has customers from all around Istanbul. People not only from Sarıyer district, but also from the Asian part come to dine and have fish here. One of the successes of this place is the quality staff it has. The waiters love what they do, and know what they serve and clean and neat people. This is important; because lots of waiters at fish restaurants don't know what kind of fish they are serving if you ask them. They are that disinterested with their jobs.  Kıyı Balık is different though. Although the waiter didn't know who I was, he still informed me about each dish he served. I felt like I was having a meal at a Michelin-starred restaurant. I order aubergine salad, octopus salad, bean pilaki and brined bonito as meze. Actually bean pilaki wasn't in my list firstly, but my waiter insisted that I should order it.  This sort of approach has touched me, since I have had the most interesting mezes of recent times. The pilaki made of thinly layered, big beans served with an amazing tomato sauce is truly capturing! They buy the beans from a producer in Adapazarı. They serve with with oil that doesn't disturb your stomach.  It's a meze that has hints of sugar. It's a perfect meze to drink rakı with. It's delicious, simple and fresh…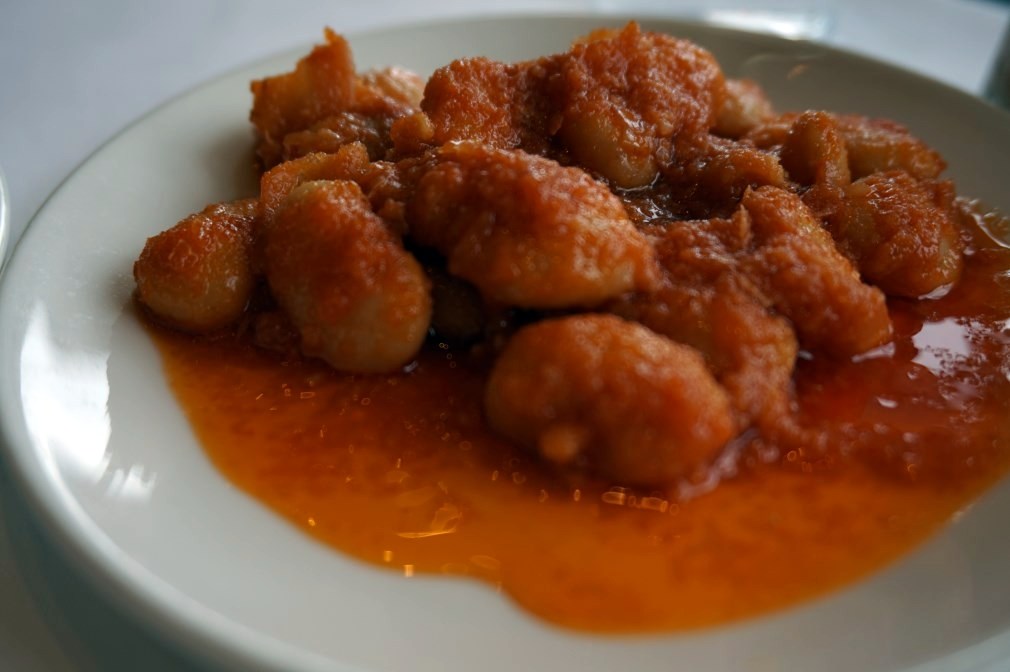 I find the aubergine salad quite good, as I can smell the beautiful taste of grilled aubergine. They don't add anything that can distract you from taste such as mayonnaise or yogurt. With its slight hint of garlic, it makes you experience a delightful salad.
The legendary Lakerda(brined tunny) of Bosporus
I would like to personally thank people who invented lakerda. And I would like to thank more to those who make it well!  By preparing lakerda with bonito , lots of places put me off from lakerda. In fact, it's the best to make it with big bonito caught from Bosporus around November, December and January. It should not fall apart when you put your fork through it, it should resist your metal fork but still be soft and melt in your mouth. And nobody can say no to red onion, cold rakı and Bosporus across you, while you're having it. You have a chance to have excellent large bonito lakerda at Kıyı Balık. There's another meze, tarama goes well when spread on bread, but I find the creamy taste too dominant. I guess if their bread were better, this could be much nicer. Therefore, I'd recommend it on bread as topping.  It balances out the taste. Among the tastes I've had here, I find this one a bit disappointing. I've had it better at different places.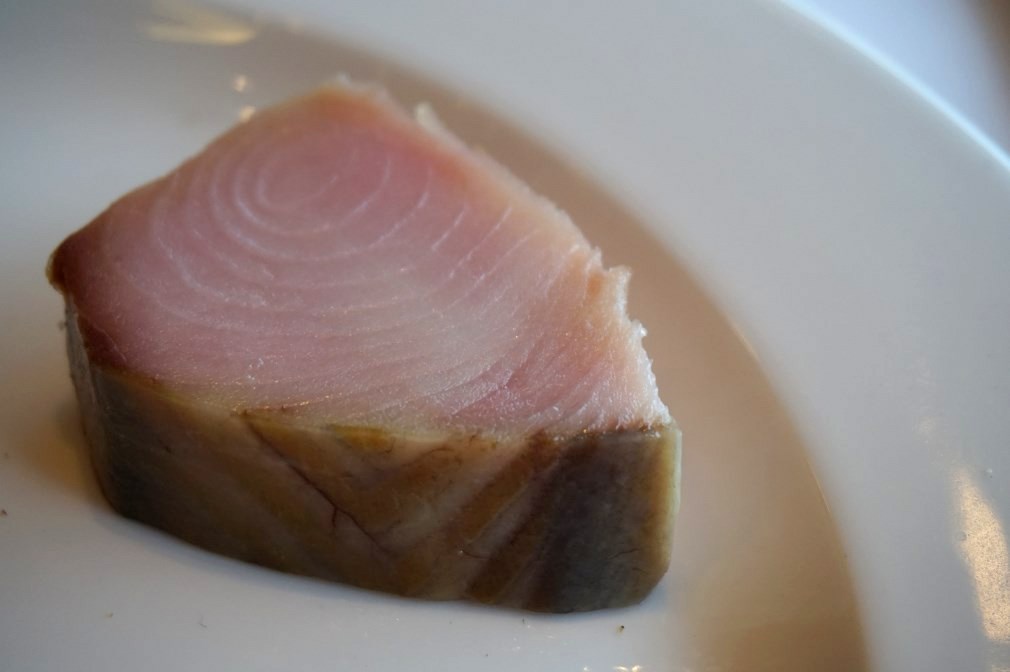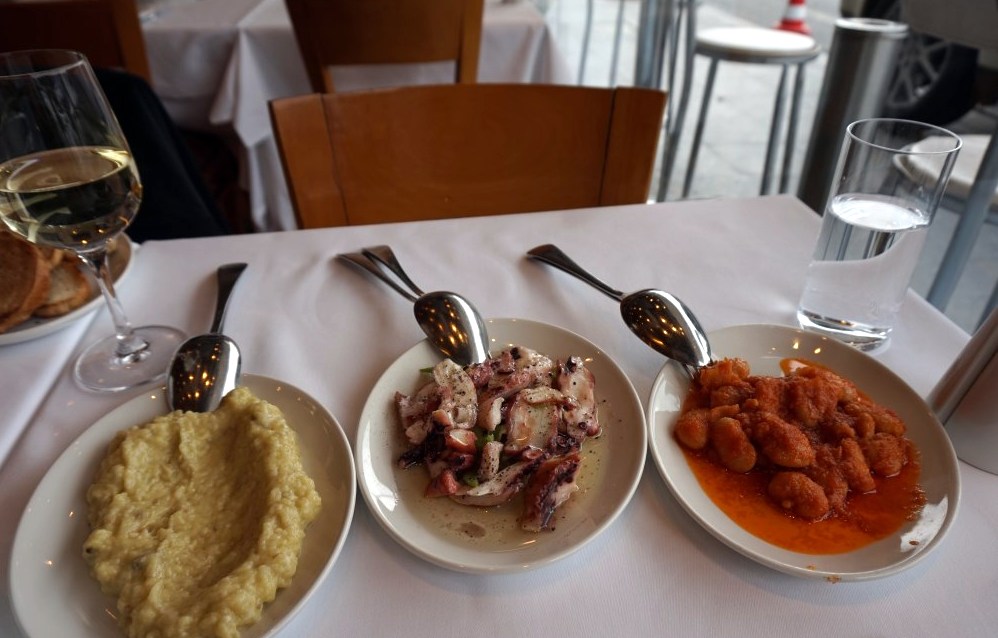 Pleasure of Liver at a fish restaurant
After putting me under a spell with Kıyı Balık mezes, my waiter says "Now, I would like to serve you a treat". A treat? At a fish restaurant by Bosporus? They usually don't come together often. As I've told you, sometimes people choose to go to places regularly when they communicate with the staff, especially when they communicate on a good level. Even though it's my first time here, the waiter shows me such a kind service. To be honest, I expect something like a classic shrimps in butter or grilled calamari. It's liver! What does liver have to do with a fish restaurant? They fry sides of thinly sliced and properly cleaned lamb liver shortly, and serve it with fresh dill. The liver remains juicy. The waiters of Kıyı Restaurant do a good job.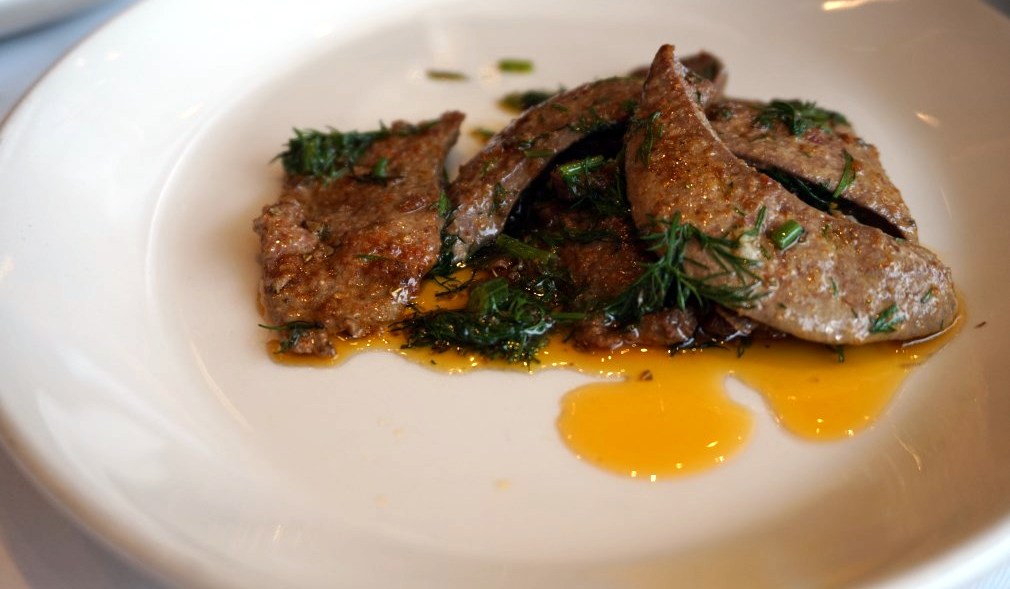 It's Bluefish season now
Around december, the most precious fish of the Bosporus gradually grow up and get fatter. Although it's not the best season for bluefish, it's still good enough. At such a place like Kıyı Restaurant where they serve fresh fish, I would not want to miss my chance. Inside it's still juicy, it's not dried up. I hope they can serve this precious fish of Istanbul Bosporus for years here. Fort his, everyone us should fight against illegal fish hunt. Please don't buy small baby fish. Let them grow bigger and reproduce.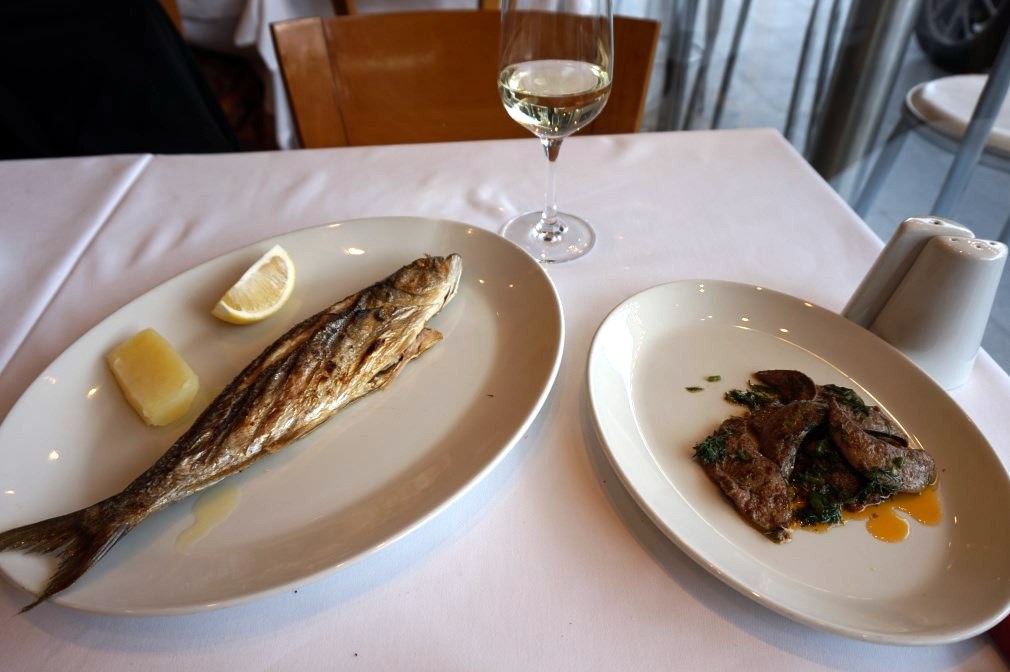 The only flaw of my dessert plate
The quince and pumpkin desserts are quite successful. Especially, pumpkins are not too soft. It's served with walnuts of good quality. The quinces are coloured up with their own seeds. It has no additives, and just like it's homemade.  Their şekerpare (baked soft pastry dipped in thick syrup) is not cooked the way I like it. The cake is medium-hard and there's orange skin inside as well. I can say I don't really encounter orange skin in şekerpare that much. The şekerpare I know is soft and sweet. Just like the lips you've kissed the first time… Their ice cream is so good that for a second I consider they might have made it themselves. They purchase it, but I learn that it's a boutique ice cream shop.  It's famous for its non-additive ice cream. The best indicator of their quality is the fact that it's famous for its ice cream with sakız (mastic gum). It's a good choice, and it's the right taste. The only flaw of my dessert plate is the feeling of regret. It's the regret you feel when you think, "I wish it would never come to an end" and feel "now how will I lose these calories?".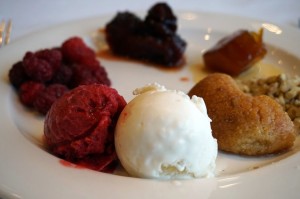 Kıyı Balık serves you the best you can ever have. Taste, hygiene, care, interest, scenery and tranquillity. The best indicator of this is the fact that it's located in Tarabya, right?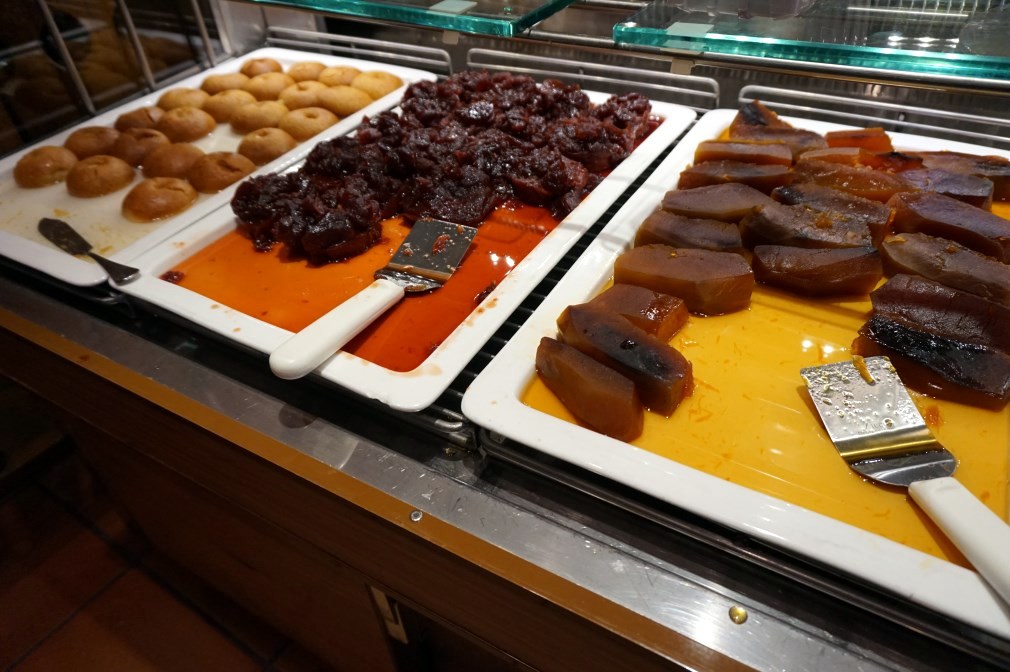 Evaluation: 9.5/10
Address: Kefeliköy Caddesi no: 126 Tarabya/Istanbul
tel: +90212 262 00 02