From being a cook to being a boss
As a nation, we like to hear about dramatic life stories. The story of people who started from zero, striving to get somewhere, and finallygetting rich and successful has always won the hearts of our people.  I encounter many people who started over from scratch and gradually got somewhere in food sector. I come across people who started as a dishwasher and ended up being a boss the most. Some of them are the ones who do the cooking on grill or barbecue. So, Balıkçı Kahraman is in the latter group. This sympathetic person who has come these days from being a cook knows all about fish now. He serves you the fish the way you can ever have the best.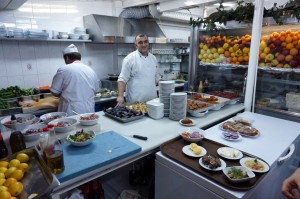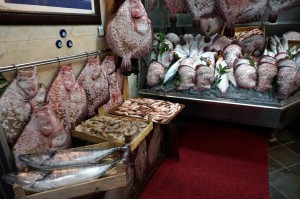 Don't fill up your stomach with Meze here
People usually do the same mistake at fish restaurants. Customers who fill up their stomachs with good mezes in a way that there's no space for fish, pass over to desserts without tasting the best what these chefs specialised in fish can make. Encountering this meze trend, fish restaurants now narrow down their fish menu and elaborate more on meze.  Therefore, they become more and more meze restaurants, straying away from being a fish restaurant. However, it's different here at Balıkçı Kahraman. I don't recommend you to have lots of meze here. Because the skill of the chef is perhaps unique in Turkey. He has an excellent cooking technique especially with turbot, loufer and barbel. Not tasting these fish would be injustice to him, and also to your appetite. I would like to give you 2 tips about mezes. First one is lakerda. Balıkçı Kahraman truly knows how to prepare genuine Bosporuslakerda well. Lakerda made of bonito dissolves in your mouth. Another beauty is mussel. Mussels sold on stalls in Istanbul are drown in spices, and has hard rice, what is more, they are not cleaned properly.  Mussels at BalıkçıKahraman are cleaned well and they are in between Istanbul-Izmir mussels, which means they are neither too spicy nor too salty. It's in its perfect form and taste.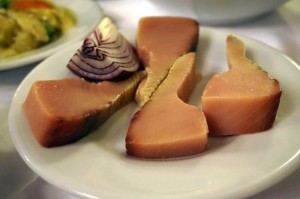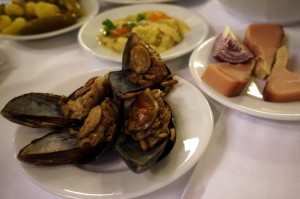 Warm starters indicate the first positive signals
When I come to Balıkçı Kahraman, I usually pass mezes and try to fill myself up with as much as seafood. On my visit with my dear friend and also the young manager of Galatarasaray Sports Club, Ali Yüce and my wife İpek, I don't depart from my rule and eat lots of seafood. Grilled anchovy is oily and juicy as always. This is what I like about KahramanUsta the most. He knows how to cook fish perfectly. He never gets the fish dry up. He knows all about whether to fry, grill or steam fish. Anchovy is beautiful, but barbel leaves its mark on the night among the warm-starters, and perhaps as the best of the night.  You must try barbel in this season at Kahraman Usta. Kahramandoesn't only show his skills as a cook, but also he adds the soul of Blacksea while cooking this fish. When these two things meet, you come across this fish that smells as fresh as the sea with its fatty meat that melts in your mouth.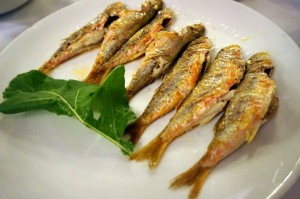 I'd like to add something about this fish as we mentioned it at our table. If you give these ingredients to some else, they probably can't do it the same way. Therefore the cook must be appreciated, give the devil his due!
Kahraman Usta is a really outstanding chef. One of the most renowned tastes of this place is their salad. They make an amazing salad with tomato and onion with vinegar, salt, pepper and low acidity olive oil they specially get from Ayvalık. All ingredients are natural, and colours are beautiful. 1 salad is often not enough for a table. When simplicity meets beauty, it gets to be a much-favoured salad. Our grilled calamari doesn't smell like eggs. It's soft. They add some thyme and chilli pepper on top. Amazing. Delicious!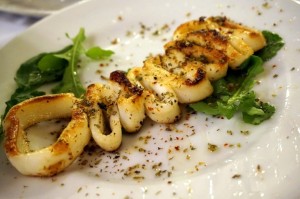 Chefs from San Sebastian come here for recipes
Balıkçı Kahraman cooks turbot fish in such a way that for many years people have been chasing this recipe that remains to be a secret. A day before I goto KahramanUsta, some chefs of world-famous Michelin starred restaurants came here from San Sebastian to interview KahramanUsta. I'd like to say one thing about this fish. There's a stall in front the gate before entering the place of KahramanUsta. You always see the freshest fish and hanged pink turbots there. It's a stall where they hang about 150 turbots daily.  150 turbots a day means a lot of investments for a fish restaurant.  It's not easy to be BalıkçıKahraman. He invests in taste rather than decoration. In turn of this investment in taste, he earns the respect and love of people.  Firstly, they blend turbot with sunflower oil and seal it shortly on grill. Next, they cook it with tandooritechnique.  For years, this place has been consistent on the quality of taste.  I'm sure if you goto this place years later, it will be possible to have same good quality fish on your plate.  It's such a taste that people come from San Sebastian, and the States to learn more about this taste. Thank God KahramanUsta is from Turkey!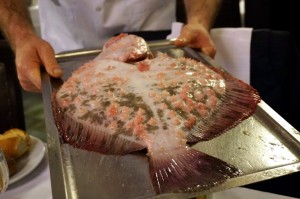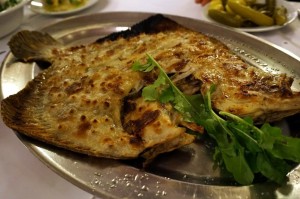 "What happened to you Mersinli (A person from Mersin). I see you're silent now?"
Bonito shashliks are splendid for fish lovers who like boneless meat.  I always find this fish way too dry.  Maybe the taste of turbot has undermined the taste of this fish, as we have them at the same time. By the time we've finished turbot and talk about the taste, I suddenly reminiscence the taste of those lovely grouper fish I've had in Mersin.  I haven't tasted grouper so good as the one I had in Mersin Narlıkuyu.  You might call this a biased opinion, but I can't really taste it. Upon this conservation, BalıkçıKahraman comes and puts a piece of grouper fish on my plate. "Now taste this", says he. Before even letting me to take a photograph, he makes me taste the fish with his own hands. Let me confess, at first I don't even understand what I have in my mouth. It's a taste of white meat with hints of thyme and oregano and delicious butter.  It's beautiful. I've tasted it and kept silent.  When BalıkçıKahraman sees that, he says, "What happened Mersinli? I see you're silent now" and teases me. I stand up and kiss this guy. If I had a hat, I would take it off and bow fort his guy. Now I understand that you don't have to goto Mersin to eat grouper. If you're looking for a different taste than turbot, I would definitely recommend you to taste this beauty.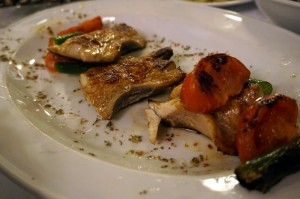 The King of the desserts: Pumpkin Dessert
Quince dessert, pumpkin dessert, fig dessert and şekerpare (baked soft pastry dipped in rich syrup) are the dessert we have on our table, but my favourites are fig and pumpkin desserts. Pumpkin dessert is really good. It's not overcooked, or hard and the sugar level is quite good. It's served with walnuts. It's also the favourite of the table. I also like fig dessert. Quince and şekerpare are alright, not bad. Then we drink the special herbal tea of BalıkçıKahraman. Only this tea can help us digest after all this food.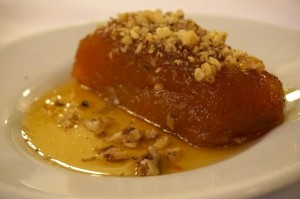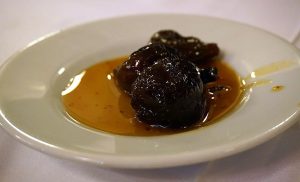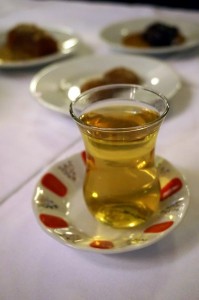 I think they are not being fair to this place criticised heavıly for its prices. First of all, people come and eat turbot fish here without tasting it anywhere else and then compare the prices. Secondly, they never highlight the taste quality of food here. For example, they compare the prices of a fish restaurant where they eat a lot of meze instead of fish, and come and compare the prices here where they eat a lot of fish. Naturally, as he spends more on fish, as a result the price is higher. Lastly, I can't help asking this question to myself: Don't you think this man who cooks fish so well, serves fish in European standards to his customers, and for whom many European chefs go mad about deserves to ask these prices?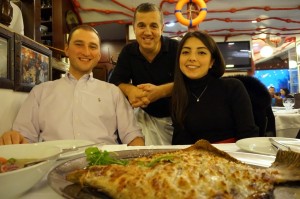 Evaluation 10/10 
Address: RumeliKavağıMh., İskele Cd No:15, 34450 RumeliKavağı/Istanbul
Telephone:(0212) 242 9899