The representative of Blacksea cuisine in Sarıyer
Anzer Sofrasi is one of the Blacksea restaurants where they obtain food locally. Its menu consists of unique tastes of Blacksea cuisine. The friendly staff doesn't only deserve praising for their amazing food, but also their legendary hospitality. While tasting food from Blacksea here in this warm, friendly local restaurant, you also draw in the beautiful Bosporus air.
Muhlama: Neither the long or short version is desirable
My first impression about muhlama I have here is that the cheese is of a very good quality, and doesn't give you heartburn. People who dine at Blacksea cuisine restaurants usually complain about heartburn problems after a couple of hours. Unfortunately, this results from the restaurant not using very good quality ingredients. They haven't overloaded corn flour much, so you're not eating a slurry muhlama. Actually, cornflour is a very risky flour type, if you overdo it, you'll get something dry and tasteless; on the other hand, if you use too little, then other ingredients, such as cheese dominates the taste of cornflour. Therefore, the level of cornflour is very important for the consistency of muhlama. Some don't stretch at all, and some is hard as concrete, and some just flow through your fork. Mıhlama made at Anzer Sofrasi is neither too hard nor soft. If we're talking about the right consistency, this is it!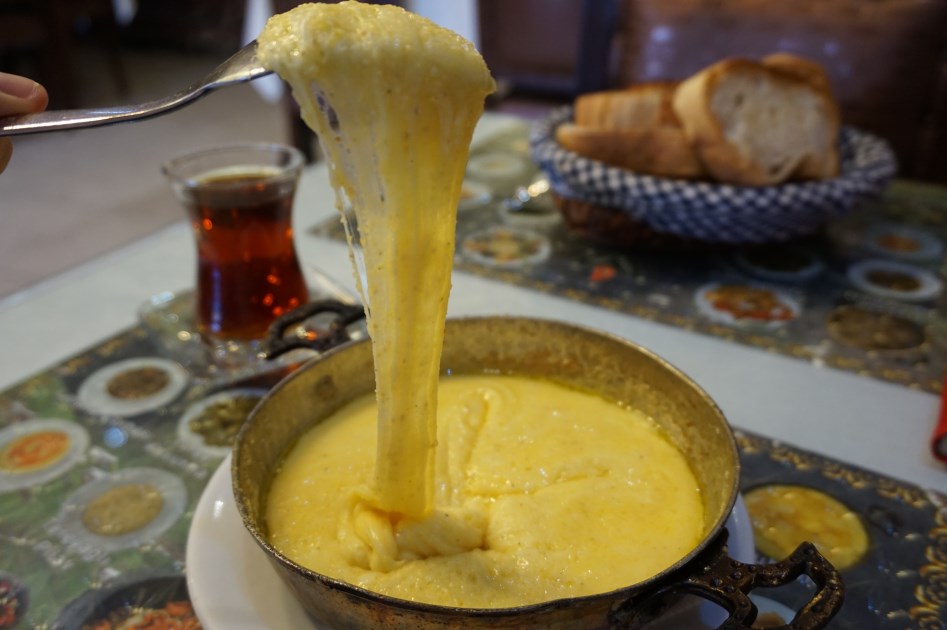 You need to taste the rich Blacksea cuisine from the hands of generous people
A typical person from Black sea is a mystery. If you ask why,, because I'v grown up with them around me. A lot of people I worked with at companies were from Blacksea. Ayşe Abla and Aunti Nihal, who looked after me, are also from the Blacksea. If they love someone, then they love them to the fullest, and if they don't like someone, they make their life miserable. They don't have anything in between. They are either on top or below. They are either white or black.  If you come across a moody one, I'd recommend you to run away quickly. Because that person has always something to say, no matter how much you try to explain them.  Therefore, if you meet a friendly person from the Blacksea, spend as much as time with them. ON my visit to AnzerSofraso, Havva Anne and her stuff were teasing each other.When I told them I'd like to take a photo of the dolmas they anxiously roll, they invited me to their table. A lot of smiles and welcoming words fly around. This was one of the best moments after having Muhlama.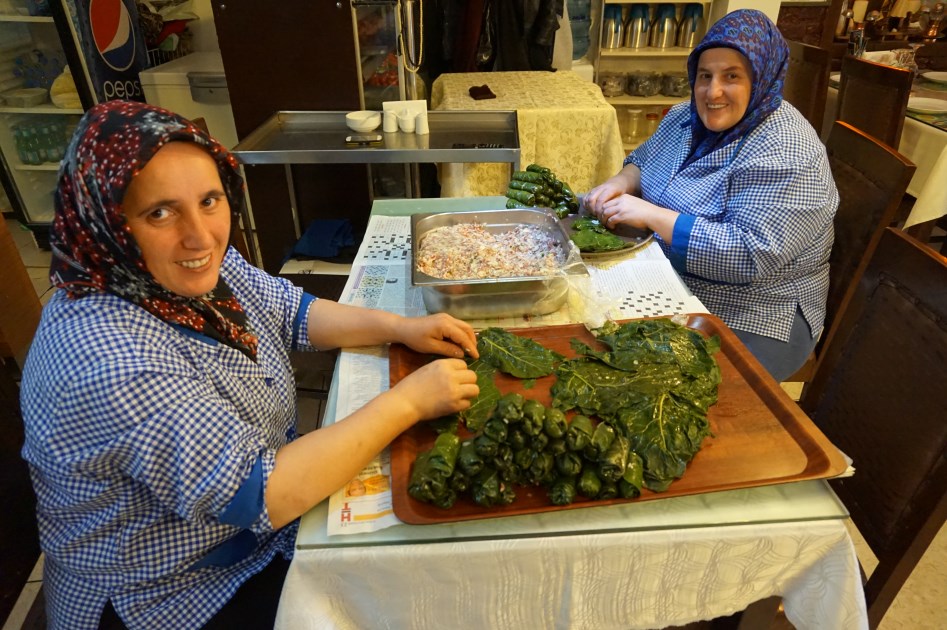 Stuffed Kale and i Bean Stew are my favourites
I don't need to elaborate on the richness of their cuisine. From their kitchen I've tasted: beans, Trabzon casserole, pilaf and yogurt. Especially, I feel lucky to eat their kale picked up freshly from the fields of Rize in autumn.  These dolmas made by Havva Anne are prepared in such a way that even with a knife they don't fall into pieces. In a dolma, there's lightly cooked minced meat and lots of rice. The taste of leaves is amazing. The inner side is still fresh, it's not withered. This is one of the most impressive dishes I've tried here. I'd especially recommend you to try their home-made sour yogurt. This yogurt is obtained from organic milk in their dairy farm in Sarıyer and is leavened with the yogurt of the previous day and left for a day to rest. What a wonderful taste! I don't know how good this tastes, I almost doubt if I've ever had yogurt before.  The word "organic" sounds too trendy at the moment, but this yogurt is different. I don't want to call it "organic", I will call it "a taste from nature".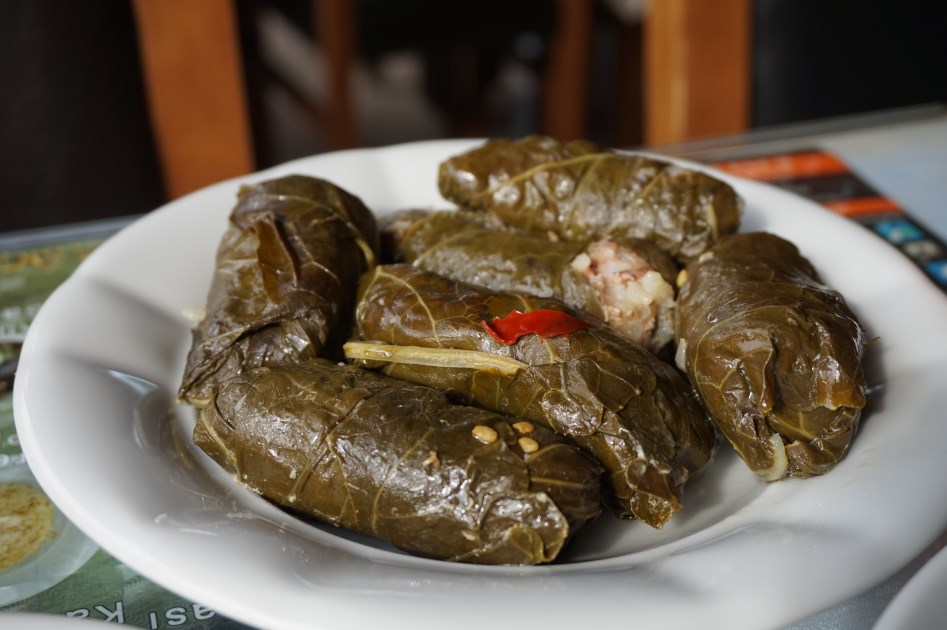 Trabzon casserole is made of the harmony of vegetables such as beans, stuffed pepper, carrot, onion, potato, and aubergine. Then they add diced beef with its fat. The meat is beautifully cooked, and the taste of butter adds another level to the vegetables. You get enough of meat and vegetables in this fragnant dish.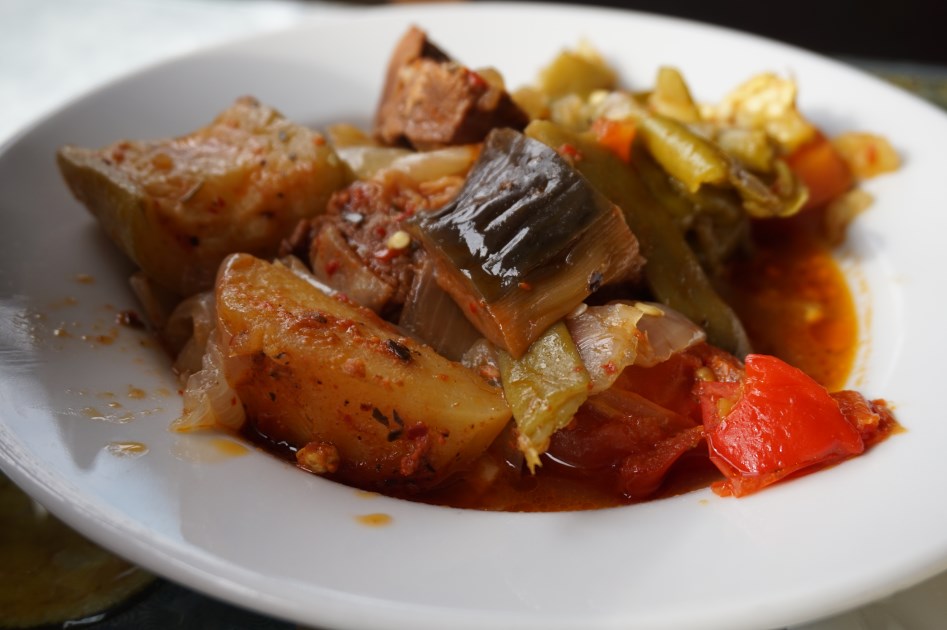 The best thing that goes with the bean stew is pickles. The quality of their pickles is great. Their cabbage pickle is like cookie. If they served you a plate, you'd finish it up for sure. The beans are cooked with a secret recipe, but the most important thing about is that beans come from Rize. No matter how much they try to cover, they can't hide the contribution of beans to the taste of the stew.  The light scent of butter blows your mind away. These medium-hard beans leave quite some after taste in mouth unlike the beans you come across at ordinary lunchrooms. The taste almost seals your mouth. Some of the sweet taste comes from the honey as they cook the stew. If they add that gorgeous Rize honey, then how can it be bad at all?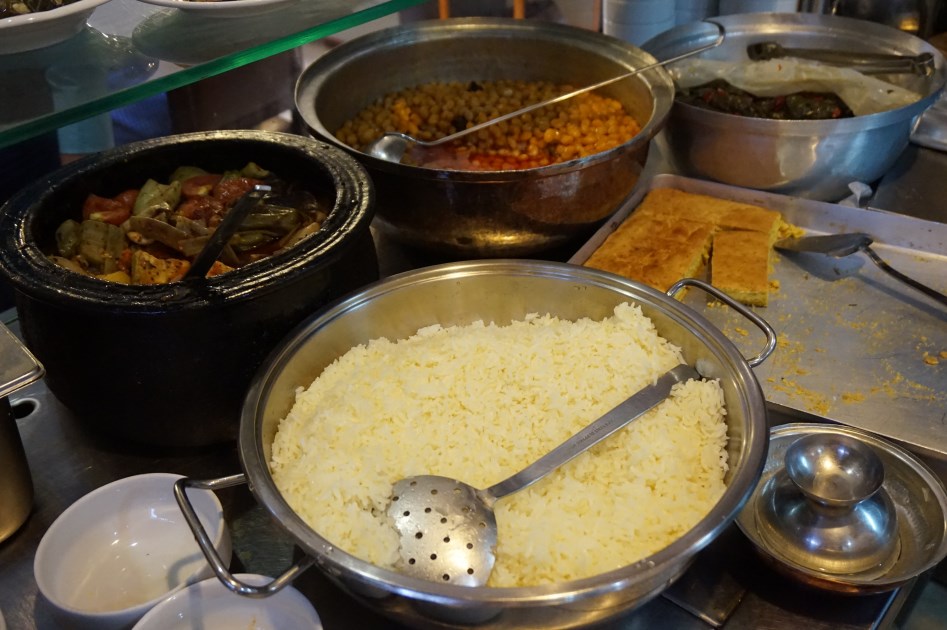 Sütlaç beaten by eggs
Only one special haven't really satisfied me much, and that is Hamsiköy sütlaç (rice pudding). I find the taste of eggs too dominant in this sütlaç.  As a matter of fact, the colour of sütlaç is quite yellow, and the taste of eggs is too much in my mouth and nose. The best thing about this sütlaç is that they haven't added a taste distraction such as vanilla. Sütlaç is right there as it is, there's no deceptive additive. It has little rice, and is of thick consistency. Would it make you unhappy? I don't think so, but I'm sure you won't distinguish the taste after some time.
This place is one of the best local restaurants you can come to taste the beautiful cuisine of Black sea, one of the most colourful regions in Turkey. I'm sure you'll respect the work of their staff and the food they make.
Evaluation: 8/10
Address: CumhuriyetMh., Kefeliköy Baglar Yolu sk No:1, Sariyer/Istanbul
Telephone:0542 244 7163